Tuesday, August 26th, 2008
Bulldogs edge Roughriders, 3-2
By Gary R. Rasberry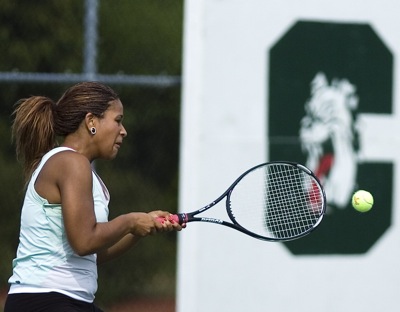 After tying for first in the team standings over the weekend at the Lima City Tennis Tournament, Celina and St. Marys met Monday in a sort of tiebreaker when the teams met at Celina's courts for a Western Buckeye League dual match.
The Roughriders took two of the three singles while Celina dominated the doubles and got a big win from Shelby Decker as the NetDogs took the match 3-2 to improve to 3-0 in WBL duals. St. Marys suffers its first WBL loss in falling to 2-1.
"We're just lucky to get away with a win here," said Celina coach Jan Morrison. "That was a little closer than I liked. St. Marys played real well."
Celina maintained perfect records in both first and second doubles, made more impressive by the fact that Morrison is still looking for a regular second doubles team.
Morrison thinks that the pairing of Shareé Werling and Katie Pyle, who first teamed up last week against Wapakoneta, may be the right combination. Werling and Pyle defeated Mallorie Sullivan and Amanda Rupard 6-2, 6-3.
The first doubles team of Sara Dorsten and Kinzie Gardner also stayed unbeaten in WBL play, winning 6-1, 6-2 over the sister tandem of Lydia and Marian Krugh.
"Even though I haven't always been happy with the play, we're undefeated at (second doubles)," said Morrison. "Kinzie and Sara, they just make it look too easy (at first doubles). I guess we need for (Gardner and Dorsten) to teach the second doubles girls how to play the doubles."
Decker, who won the C-Flight title at Lima on Saturday, wrapped up the series win for Celina in third singles, beating Amy Ellis 6-4, 6-3.
"Shelby is a nice competitor," said Morrison. "She's real steady and has a good sense when to hit it and when to start the point over."
St. Marys countered with big wins in the first two singles matches. Megan Dominik, runner-up in A-Flight singles on Saturday beat Amber Jaeger 6-4, 6-3 while Kelly Fritz, the B-Flight champ battled Rachel Smith in a close 7-5, 6-3 decision.
"I thought Rachel played well tonight," said Morrison. "... She made Fritz hit lots of balls and Rachel hit lots of winners. It was unforced errors that beat her, it wasn't Fritz hitting winners, but Rachel can fix those. Amber always gives a battle. She stayed with her."
"All those matches were close and well-contested," said St. Marys coach Brice Brenneman. "Third singles was the one I was watching the closest. There were all kinds of Deuce games that could have went either way and very few went our way.
"That's the best second and third singles players we've faced this year by quite a margin. We've got a few things to work on. Maybe we'll get another shot at them at the WBL. It was a well-played match."
Winning junior varsity doubles matches for Celina were Abbey Feltz and Christine Prenger, Hannah List and Emily Langenkamp and the team of Ellie Elson and Emily Niswonger.
Celina is back in action today, traveling to face Lehman. St. Marys is back in action on Thursday, hosting Defiance in WBL play.