Tuesday, September 16th, 2008
Celina man dies after three-vehicle crash in Mercer County
By Margie Wuebker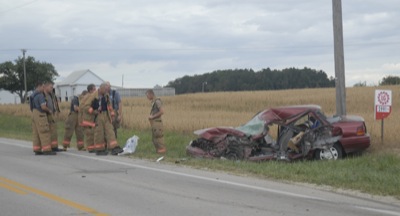 A 31-year-old Celina man died Monday evening of injuries sustained in a three-vehicle crash earlier in the day along state Route 219, east of Township Line Road.
Todd L. Adams, 2102 St. Anthony Road, was pronounced dead at 6:30 p.m. at Miami Valley Hospital in Dayton following the 4:41 p.m. accident.
Adams was reportedly heading home westbound on state Route 219 when a 1992 Chevy S-10 pickup driven by Douglas M. Heitkamp, 24, 6215 Depweg Road, Celina, crossed the center line and struck Adams' 1995 Ford Escort. The Ford continued off the north side of the road and struck a utility pole.
Gary M. Timmerman, 32, 9636 Banks Road, Yorkshire, who was following Adams, saw the crash and attempted to avoid it by swerving left of center. However, his 1998 Chevrolet Hatchback sideswiped Heitkamp's pickup truck as it overturned.
Heitkamp, who reportedly was not using a seat belt at the time, was ejected from his vehicle while Southwest Mercer firefighters had to free Adams from the wreckage.
Heitkamp and Adams were taken by ambulance to Mercer County Community Hospital in Coldwater and later transferred aboard CareFlight emergency helicopter to Miami Valley Hospital. Heitkamp remains in fair condition today.
Timmerman escaped injury and his vehicle sustained moderate damage. The other vehicles were removed by wreckers due to heavy damage.
The accident remains under investigation, and deputies had not interviewed Heitkamp as of press time today. Deputies say they do not yet know what caused the pickup truck to cross the center line.
Adams was co-owner of General Landscaping in Celina and a welder. The 1995 graduate of Celina High School married Constance "Connie" Elaine Omo on June 28 in Montezuma.
Funeral services are pending.
Sheriff Jeff Grey said authorities will be sitting down to analyze each of the six traffic accidents that have claimed 10 lives in the county since January. Chief Deputy Gery Thobe will chair the meeting of patrol lieutenants to determine what might have prevented the crashes.
"The first crash involved someone running a stop sign," Grey said. "Then we've had an ATV accident, a semitrailer rollover, a 10-year-old who ran into the road, a go-cart crash and two incidents of vehicles traveling left of center."
Deputies will be stepping up patrol along state Route 219, which has been the scene of the last three fatal accidents.