Tuesday, September 16th, 2008
Celina wraps up WBL action with a victory
By Daily Standard Staff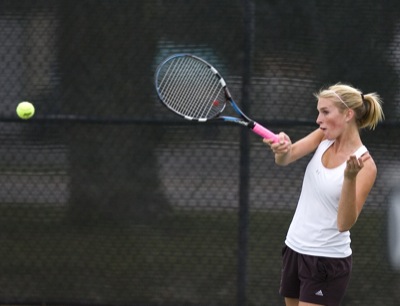 Compiled by Ryan Hines and Gary R. Rasberry

Celina concluded Western Buckeye League girls tennis dual match play with a 5-0 shutout of Defiance on Monday at the High School Courts. Celina, the defending WBL champ, ends league circuit play at 8-1.
All five sections for Celina posted two-set wins. Amber Jaeger won 6-1, 6-3 while Rachel Smith posted a victory in matching 6-1 sets. Shelby Decker picked up a win with 6-1, 6-0 results.
Both Celina doubles teams concluded the season with perfect 9-0 marks. The first doubles team of Kinzie Gardner and Sara Dorsten won with matching 6-0 sets while second doubles players Katie Pyle and Shareé Werling won 6-1, 6-0.
Celina travels to Bluffton today.
VOLLEYBALL
Roughriders get win #2
St. Marys picked up its second win of the season, outlasting Coldwater in a five-set marathon on Monday at Cook Gymnasium.
The Cavaliers won the opening game 25-17 before the Roughriders took games two and three 26-24 and 25-18. Coldwater forced a fifth game with a 25-21 win in the fourth game before the Roughriders put things away with a 15-11 finale.
Erika Thornsberry led the Roughriders with 16 kills. Bailey Smith and Megan Bruggeman each had 15 digs while Kara Cheslock had 10 assists. Jessica Taylor served up five aces.
St. Marys travels to Wapakoneta on Thursday. Coldwater faced off against Coldwater in a Midwest Athletic Conference matchup tonight.
Flyers stay perfect
Marion Local, the top team in Division IV according to the state coaches poll, improves to 11-0 on the season after beating Russia in three sets on Monday.
The Flyers took the match with wins of 25-16, 25-19 and 25-11.
Alyssa Winner had 13 kills for the Flyers. Tara Hartings played an all-around match, serving up three aces while recording 12 digs and dishing out 14 assists.
Marion hosts New Knoxville tonight.
Panthers stay hot
Parkway kept up its winning ways, dispatching Lincolnview in three sets at Panther Gymnasium.
The Panthers took the first two sets with matching 25-7 margins before taking the final set 25-12.
Marian Bevington, Ashley Stose, Emily Crowell and Kelsey Bates each had six kills to pace Parkway. Bevington also served up five aces while Crowell, Tara Luth and Hannah Beougher recorded nine digs each.
Indians fall to Rockets
Fort Recovery dropped to 5-5 on the season in falling to Anna in three sets. The Rockets got the win with scores of 25-19, 25-16 and 25-23.
Kinsey Wenning led the Indians with 11 kills while Emily May added 14 digs.
BOYS GOLF
Wildcats go to 8-0
Minster stayed perfect in MAC action with a 162-173 win over St. Henry at The Elks. St. Henry drops to 6-2 with the loss.
Wildcat Adam Sherman was medalist on the day with a round of 38. Craig Purpus shot a 40 with Austin Fischer shooting a 41.
Chad Gerlach, Doug Bruns and Craig Kramer each shot a 43 to pace St. Henry.
Tigers down Cavaliers
Versailles improved to 7-1 in the MAC with a 178-192 win over Coldwater at The Elks on Monday.
Wes Drees of Versailles was medalist with a 39 and Matt Stover shot a 42.
Mark Kaiser led Coldwater with a 42.
Roughriders beat Bulldogs
The St. Marys boys golf team got 40s from Adam Kuffner, Logan Yelton and Will Paulus on the way to a 162-174 win over Elida at Tamarac Gold Club to finish the WBL season with a 6-3 mark.
Scott Anderson and Paul Carmean also shot 42 for the Roughriders.
Elida's J.J. Jackson was medalist on the day with a 39.
GIRLS GOLF
Panthers equal best
Parkway matched the school record for low nine-hole round in beating Wapakoneta 182-207 at Deerfield.
Emily Winings led Parkway with a medalist round of 38 and Alyssa Evans shot a 46.
Janelle Allen had the low round for Wapak with a 48.
Flyers split two
The Marion Local girls golf team split two golf matches against Minster and Delphos St. John's on Monday at The Elks.
The Flyers defeated Minster, 215-218, while the Blue Jays' 203 was enough to knock off Marion.
Marion Local's Lauren Subler was medalist on the day after shooting a 46. Nicole Goettemoeller had a 53 and Kensey Schwieterman also added a 54.
Regan Arnold led Minster with a 52 while Rachel Thieman added a 53.
LATE VOLLEYBALL
Redskins 2-1 at Bath
St. Henry picked up two wins over the weekend at the Bath/Kewpee Invitational on Saturday, not one as originally reported in Monday's newspaper.
The Redskins lost to Orrville 23-25, 22-25 but rallied to beat Old Fort 25-11, 25-13 and Wayne 25-5 and 25-23.
St. Henry is at Versailles tonight.