Friday, September 19th, 2008
Jail construction smooth so far
By Shelley Grieshop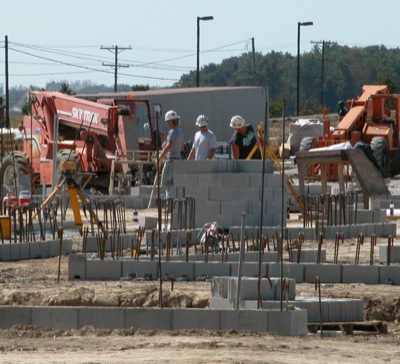 Construction of the Mercer County Adult Detention Facility west of Celina is slightly ahead of schedule with a portion of the building to be under roof by winter.
The estimated $11.9 million project along state Route 29 is expected to be completed by Oct. 28, 2009.
Rick Axline of Shremshock Architects Inc. of Columbus, told The Daily Standard this morning that 95 percent of the foundation has been poured for the nearly 50,000-square-foot building. When completed, the building will house 100 inmates.
"We're perhaps a 'tad' bit ahead of schedule, maybe two weeks ahead I'd say," Axline said.
Axline said there's been excellent cooperation between the architects and Peterson Construction Company of Wapakoneta - the general contractor for the project. Key issues such as equipment purchases are being processed early enough to keep construction moving along, he added.
Construction began almost immediately after an official groundbreaking ceremony Aug. 5. Axline said the company has various short-term goals including getting the roof on the administration wing by the time winter sets in.
By a narrow margin, voters approved a 0.5 percent sales tax levy in November 2007 to pay for the construction and future maintenance of the jail. The current jail was built in 1939 and designed to house 15 prisoners.
A study was performed several years ago by Shremshock and a corrections consultant firm to establish the county's needs and make recommendations on possible sites. The county-owned property near the county home was determined to be the most feasible place to build, according to the study.
However, there also were five other buildings and a total of nine possible sites that were looked at as possible locations for the detention facility. The buildings previously under consideration, ranked in order by most favorable, were: Celina Group Insurance; the former Franklin Elementary School in Montezuma; the existing jail; the sheriff's office building; and the county-owned building at the corner of Main and Fulton streets in Celina.
Prior to making a decision, experts weighed numerous issues such as the cost of purchasing some of the noncounty-owned buildings, site location and remodeling expenses for many of the buildings.