Friday, September 19th, 2008
New Bremen still perfect in league action
By Mark Ruschau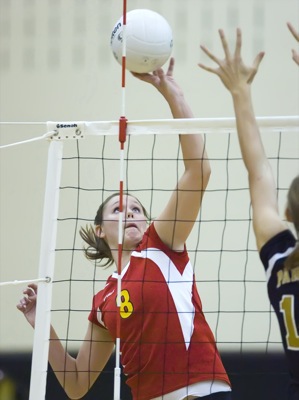 ROCKFORD - Going into Thursday evening's Midwest Athletic Conference match against the Parkway Panthers, one of the questions surrounding the New Bremen Cardinal volleyball squad was could they beat a team whose talent was equal to or better than the Cardinals.
The two losses suffered by the Cardinals this season were a home match to a talented Anna team and a road match at the Division IV number-two ranked team in the state, Jackson Center.
So, a road match against a Parkway team that came into the match with a 13-2 overall mark and 3-1 league mark would be a severe test, and to top things off, the Cardinals would have to play without senior outside hitter Lindsay Warner who was back home with an illness.
New Bremen got big plays in unexpected places and was able to rally in all three games to post a 25-23, 25-21 and 25-23 win.
The Cardinals remain perfect in the conference at 5-0 and improve to 11-2 overall. Parkway finds itself on the outside looking in for the conference crown as it falls 3-2 in the MAC and 13-3 overall.
"I really thought we could lose this match tonight, easily because Parkway is that good," said New Bremen coach Lisa Thobe. "We were able to get some breaks and then we started to make some plays and the people who have being playing just okay, really stepped up for us.
"This was a nice win for us," continued Thobe. "We were able to win this match and do it without Lindsay Warner. I am very proud of the girls who most people would not think are our big hitters like Becky Niekamp, Amy Elking, Stacy Timmerman and Michelle Griesdorn. I knew we were going to need big games from these guys, because Parkway is a good team."
The quartet that Thobe spoke of combined for 14 kills, two blocks and two service winners. Jackie Dabbelt also had a great night at the net as she recorded 12 kills, two blocks and a service winner.
While Thobe was lauding her charges, Parkway coach Jeff Marbaugh was bemoaning about the one that got a way.
"We just did not focus on the things that we needed to do to win this match," said Marbaugh. "For example, we were up 7-2 in the first and suddenly we were down 11-8 and it seemed like we played that way throughout the match. We would make a good pass and set and then we would turnaround and not make a play on an easy play.
"When we are in control of a game we don't take advantage and we let the other team get back into the match. New Bremen is a good team and you just cannot let a team like this have chances like we did."
In the first game, New Bremen trailed 7-2 and 17-12 before tying the game at 23-all. The Cardinals were able to close out the game on kills by Taylor Jones and a hitting error by the Panthers' Danielle Mathews.
In the second game, Parkway came as close as 20-19 on back-to-back kills from Stose and Emily Crowell, but New Bremen then went on a 5-2 run to close out the game on the strength of a pair of Dabbelt kills and a kill by Griesdorn.
The third game may have been the cruelest of all for Parkway as it saw a 22-19 lead slip away.
Two Parkway miscues and a Jones service winner tied the game at 22, forcing a Parkway timeout. After the timeout, a tip by Niekamp gave the Cardinals the lead at 23-22.
Parkway tied the game one last time on a kill by Crowell but Timmerman and Elking combined for a block to make the score 24-23 before Dabbelt closed out the game and match with a block.
Parkway is back in action on Tuesday at Van Wert while New Bremen is also in action on Tuesday traveling to Shawnee.