Friday, January 30th, 2009
Celina bed and breakfast approved
Planning commission OKs conditional use despite neighbor's protest
By William Kincaid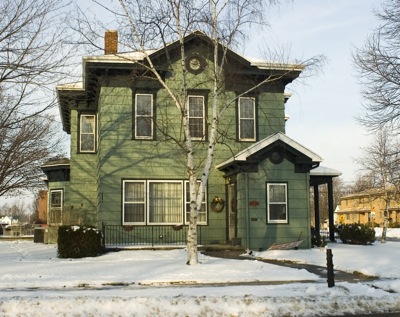 In 15 years as a Celina City planning commission member, Tom Hone said he has never encountered such vehement opposition to a conditional use property request as he did on Thursday night.
Before unanimously approving a request to turn a Celina Main Street home at 423 N. Main Street into a bed and breakfast, commissioners were assailed by an angry resident against the proposal for nearly 45 minutes.
Paul Scheideberg, a neighbor of the future bed and breakfast, scolded council members for not preserving the residential nature of North Main Street and even questioned their authority.
Scheideberg's diatribe later set up a brief discussion on designating the area as a historical neighborhood.
"It's creep. You guys know that. It's sprawl," a vociferous Scheideberg shouted to members.
Scheideberg said he would have never purchased his house if he would have known a business would be allowed in.
"You're supposed to be planning," he said.
Scheideberg brought up issues of parking, traffic, management of the potential business, unruliness and property values - all of which were rebuffed by the commission.
Commission member Ralph Stelzer said the board is in place simply to approve the purpose of the property and possible changes. According to city law, the property is R-1 low density residential district where a bed and breakfast is allowed, as long as such issues of parking and intent are met.
"Just because you can, doesn't mean you should," Scheideberg said to member about their decisions.
But Stelzer and others replied that it would be wrong to deny a request if all requirements have or will be met.
As to Scheideberg's concern about parking, members said property owner Kevin Mast could do anything he wanted to his property or reach an agreement with a neighbor or the nearby church to meet parking conditions.
Just because the church has been there for 90 years doesn't mean someone should add parking next to its large lot, Scheideberg responded.
Members also disagreed with Scheideberg's opinion traffic would be affected greatly.
Scheideberg also said he was concerned about the management of the business, asking who would supervise - some 17-year-old girl?
Sandy Mast immediately replied that no such person would be employed. Mast also said she understands the resort business as she is manager at Kozy Kampgrounds.
"Why do I have to speak to you on who I hire?" Kevin Mast asked Scheideberg.
Scheideberg said he was concerned about parties, loud noise and alcohol consumption.
Tom Hone said he didn't think a bed and breakfast would attract that kind of crowd, while planning secretary Jeremy Hinton said the city already has enforcement policies in place.
Scheideberg also said he invested much in his home and didn't want to see the property value diminish because of a business encroaching on a residential area, adding that it would bring "hell-in-a-handbasket."
"You could have checked this out before you bought your house," Hone replied, pointing out there was always a possibility of a business in the area.
Members and the Mast couple continually repeated that any changes to the exterior structure would have to be further approved by the commission.
But Scheideberg was still unsatisfied.
"Are you the end-all, be-all?" he asked. "Who supervises you people?"
No one in attendance had a definitive answer to an appeal process, but Jeff Hazel said he could contact city council members or pursue the decision in court.
Hone said he understands and sympathizes with Scheideberg's concern about the integrity of the area and challenged him "to pick up the ball and run with it" to try to get the neighborhood designated as historical with severe limitations.
The area is a precious part of town, Hone said. He said he worries that one of the homes would burn down and be replaced by a structure not matching the nearby architecture.