Friday, January 30th, 2009
Cardinals need 3 OTs for 11th straight victory
By Ryan Hines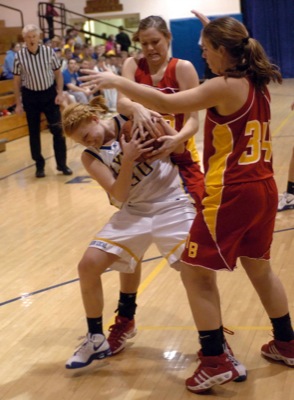 MARIA STEIN - It wasn't easy by any means, but the hottest team in the Grand Lake area avoided an upset and won for the 11th straight time.
New Bremen needed three overtimes, but the Cardinals invaded The Hangar for a 43-40 triumph over Marion Local in Midwest Athletic Conference action on Thursday night.
The win by New Bremen (14-1, 5-1 MAC) sets up a big showdown at Cardinal Gymnasium next Thursday as St. John's, the MAC leader right now at 12-2 overall and 5-0 in league play, visits Auglaize County.
"We had some girls that were sick for us today, three of them actually, and they just fought through it and gave us their all," said New Bremen head coach Dave McFeely. "They all sucked it up and played hard and we needed this win to get to next week against St. John's with a chance for the league title. Very crucial for us to get this win because the winner of the MAC isn't going to have two losses with St. John's not having any losses right now."
While McFeely applauded the effort of his team to pull out a road win, Marion Local head coach Treva Fortkamp was left wondering what might have been with another close loss to a quality opponent.
"We were right there against the third-ranked team in the state, but we couldn't shoot the ball tonight," said Fortkamp. "If we make a few shots, we win. I think that their experience played a factor in this game with having five seniors on the floor in crucial situations. I told the girls that we can't hold our heads down, though, because we could have won this game if we would have made a few plays at the right time."
Marion Local had New Bremen on the ropes several times with a +11 (34-23) rebounding advantage, but the Flyers' offensive struggles were too much to overtime. The Flyers shot just 14-of-47 from the field (30 percent).
Stacy Timmerman scored a game-high 18 points, including five in the third overtime.
A Timmerman free throw broke a 36-36 tie early in the third overtime, following two scoreless OT sessions. Timmerman then got loose under the basket for a layup that pushed New Bremen out front 39-36 with 1:22 left on the clock.
Katrina Brand scored off an offensive rebound to pull the Flyers back to within one point, but New Bremen's LeAnn Topp answered with a pair of free throws that put the Cardinals in front 41-38 with under 40 seconds to play in the game.
Following Topp's first points of the game, Marion Local closed to within one point again after two Rachel Puthoff free throws with 25 seconds on the clock.
Two more free throws by Timmerman put New Bremen on top 43-40 with 18.7 seconds in the game and the Cardinals' defense made the three-point lead stand.
Marion Local called one timeout at the 14-second mark and then had to call another timeout with 3.2 seconds left when the Flyers' offense was out of sync.
Marion Local's Alyssa Winner got loose briefly for a straight-on trey, but a Cardinal defender got a hand in her face and the jumper fell short to give New Bremen the victory.
Despite the overall offensive struggles for the Flyers, Brand had 12 points and 13 rebounds while Margaret Wuebker and Winner added 10 points apiece with Wuebker adding 10 rebounds.
Prior to the Cardinals' big MAC matchup next Thursday, New Bremen will host Botkins on Saturday afternoon while Marion Local hosts Elida on Saturday.