Saturday, February 28th, 2009
Mastering her craft
Marion Local teacher joins four other county teachers in attaining certification
By Margie Wuebker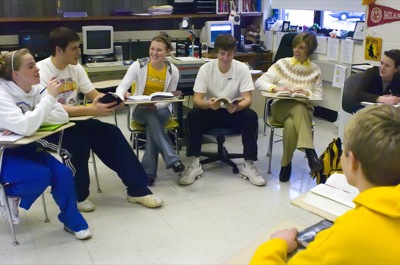 MARIA STEIN - Lynne Yates has a new plaque to add to her collection - one saluting her master teacher certification. But her advanced placement students at Marion Local High School will notice no change in either her assignments nor expectations.
"I expect a lot from my students," she says candidly. "My goal is to prepare them for success in college and in the workplace."
Yates is not alone in this.
The same can be said for other recipients here in Mercer County: Becky Link and Jill Walter from Fort Recovery Local Schools; Joyce Lamm from St. Henry Local Schools; and Wendy Mitchell-Payne from the Celina City Schools.
The five also hold prior certification from the National Board of Professional Teaching, which may be one factor in meeting eligibility standards for the new designation.
The Ohio Master Teacher Program, which debuted this year, recognizes teachers who exhibit excellence inside and outside the classroom through consistent leadership and focused collaboration to maximize student learning.
According to Jeff Tuneberg, curriculum coordinator with the Mercer County Educational Service Center, eligible educators must clearly demonstrate each of five criteria and score as exemplary in at least four of those areas. They include consistent leadership, focused collaboration, distinguished teaching with a focus on students and environment, distinguished teaching with focus on content, instruction and assessment, and continued professional growth.
"These teachers do not receive extra money or a stipend of any kind for going the extra mile," Tuneberg says. "They are exemplary teachers who strive for continuing excellence in their chosen field."
Yates, a graduate of Centerville High School, enrolled at Miami University in Oxford with an undeclared major.
"I knew what I didn't want," she says with a smile. "One of my classes (Introduction to Education) provided an opportunity to go to area schools once a week for four hours. I was assigned to an advanced seventh-grade class and thoroughly enjoyed the experience."
The teacher took her aside at one point, commending her performance and suggesting she consider a career in education. Yates, who holds a bachelor's degree from Miami and a master's degree from Marygrove College in Detroit, followed the suggestion and is marking her 12th year at Marion Local.
She recalls sitting down years ago with mentor Charlie Mescher, who has since retired, and discussing where they wanted students to be academically in advanced placement classes like college English I and II, literature and composition.
"You can't be a traditional teacher to get results in today's world," Yates says. "There is no one way to teach; you have to find a method that suits your personality and go for it. Yes, my classroom is more relaxed than others, but I respect my students and they respect me."
Assignments range from creating videos based on questions asked in the community to adding a new chapter to an assigned book in the author's writing style. Students quickly learn she demands hard work, honesty and steady improvement. One-on-one conferences are the rule rather than the exception, with some aspiring writers requesting more meetings in order to hone their skills.
"The assignments are challenging," she says as seniors Jason Homan and Tara Hartings nod in agreement. "The goal is to work hard so their college experience will be easier."
When asked for his evaluation of the likable teacher with seemingly unlimited enthusiasm, Homan states without hesitation, "Miss Yates' classes provide more than enough opportunity to practice my work ethic."
Hartings, on the other hand, believes the rigorous schedule allows her to apply good reading and writing skills needed in college and in later life. "You learn a lot about life in her classes," the teenager adds. "And she's available when you need to talk."
Yates maintains a relationship with current and former students, often taking them to dinner to talk on neutral ground. She especially enjoys meeting with those who have gone on to college to gauge their success and garner suggestions for improving her class content.
"A teacher has to be a juggler," she says. "I have to make sure my students get what they need when they need it. Going to dinner provides a good time for conversation. There is one rule - I pick up the tab until they become gainfully employed, then it's their turn."