Saturday, February 28th, 2009
Celina squanders shot at piece of WBL title
By Ryan Hines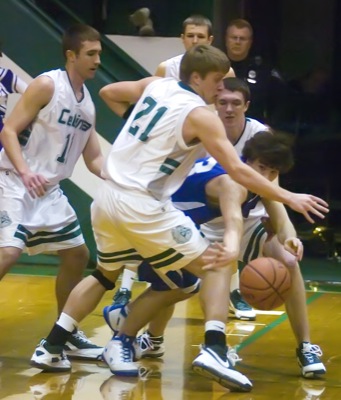 The perfect conclusion to the home schedule for the Celina boys basketball team would have been to celebrate a share of the Western Buckeye League title in front of the Green and White fans.
Defiance wasn't about to let that happen and made the finale in the Fieldhouse a nightmare for Celina.
For the second straight week, Celina fumbled away its chance at a WBL championship on its home floor as Defiance invaded the Fieldhouse and picked up an impressive 57-50 victory.
The third straight Celina (12-7, 7-2 WBL) loss, coupled with Ottawa-Glandorf's 54-45 victory over Shawnee, leaves the Titans (18-2, 8-1 WBL) as the outright WBL champion while Celina is left wondering what could have been.
"This is a game that I would love to play again. Maybe we'll see them again in the tournament," said Celina head coach Chris Bihn. "The guys are very disappointed and we'll have to keep an eye on them tomorrow and make sure they are up and focused to play against St. John's."
"We knew coming in that they had some things to be playing for. They were playing for a piece of the WBL title and it was the last home game for their seniors, so we knew that we were going to face a team that was fired up and ready to play," said Defiance head coach Kirk Lehman. "Our kids matched that intensity and that's something that I'm really proud of them for."
Defiance looked like the team that was playing for a piece of the WBL crown, especially in the first quarter when the visitors buried Celina in a deep 18-6 hole. Defiance hit 7-of-9 from the field in the first quarter and outrebounded the hosts 10-1 while Celina was just 2-of-11 from the floor.
"Once again we got off to a slow start and you just cannot do that against a good team like Defiance," said Bihn. "We have to find a way to play better in the first quarter and play better defense and rebound better. We missed four layups in the first quarter that would have made it 18-14 instead of 18-6. Overall, we just need to play better in the first quarter of games. Tonight that was huge."
Defiance looked comfortable in the Fieldhouse for the whole game shooting 16-of-23 from the field (70 percent) while Celina could never get in a rhythm and finished the night 18-for-54 from the floor (33 percent).
It was a double-digit lead for Defiance all the way through the first three quarters, until Celina began to finally chip away at the deficit throughout the fourth quarter.
Derek Gagle and Darin Waterman led Celina's comeback from long range as each hit multiple three-pointers to pull the home team to within five points at 52-47 with 43 seconds left to play in the game.
Defiance left the door open for Celina on the next two possessions as Taylor Keel and Curtis Parsons only made good on 1-of-4 from the free-throw line. However, Gagle missed a pair of three-pointers in that stretch and then Alex Keel and Parsons each hit a pair from the charity stripe to push the Defiance lead up to 10 points at 57-47 with only 7.4 seconds left in the game.
Gagle hit a milestone for Celina at the final buzzer as the lefty hit a three-pointer to give him a game-high 24 points in the contest and 1,002 points for his career. Gagle is the fourth player in Celina history to eclipse the 1,000-point plateau, joining Tim Homan (1,144 points from 2002-2004), Jay VanderHorst (1,127 points from 1977-1980) and Mike Reichert (1,087 points from 1977-1979).
Waterman was the only other Celina player in double figures with 11 points, all of which came in the second half. Celina 6-6 center Jake Green, who was averaging 15.5 points per game, was completely ineffective against Defiance finishing 1-of-8 from the field for just two points with just one rebound.
"Gagle made some tough shots. Percentage-wise, I think we had him for 8-of-24, so we'll take that if it takes 24 shots to get 24 points, but he's a great player and a scorer that made some double-clutch shots," said Lehman. "I thought our big guys really did a great job defending Green. We knew that he liked to go power to the right and our guys did a great job with the scouting report and sitting on that shoulder."
Defiance's Alex Keel showed why he is a lock to be a first team all-WBL performer with 18 points and a game-high seven rebounds while Alex Nofziger added 12 points.
Celina will try to end its three-game skid today on the road in an afternoon contest against Delphos St. John's.