Friday, April 17th, 2009
Fort statue honors Indian war survivor
Carving by local artist Phil Wood will be unveiled on May 3
By William Kincaid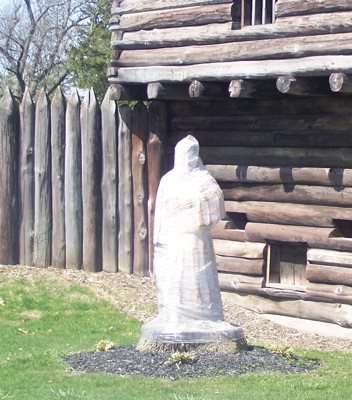 FORT RECOVERY - Armed with only a frying pan, "Red-Haired Nance" was one of only a few to survive Gen. Arthur St. Clair's devastating defeat by American Indians at Fort Recovery in 1791.
Now, the firebrand's image has been carved into a life-size wooden statue by 45-year-old Fort Recovery artist Phil Wood.
A grand unveiling of "Red-Haired Nance" will be held May 3 in front of the village's fort.
"We thought it was important for women who lost their lives," Fort Recovery State Museum Director Nancy Knapke said.
According to Knapke, Nance - most likely the wife of a militiaman - fought the Indians with a frying pan in one hand while she held her infant baby in the other. Fearing for her child's life, Nance placed the baby on the ground. After the battle, Nance spent the rest of her life searching in vain for her child.
Members of the Fort Recovery Historical Society chose to commemorate the legacy of Nance and commissioned Wood to create the statute from a tree that was cut down.
Wood - who has been carving since he was 18 years old - asked Tina Bechtol, who played Nance in Fort Recovery's bicentennial pageant in 1991, if she had her costume.
Bechtol still had her costume and posed for Wood, who took her pictures and used them as a model for the carving.
Wood set to work on the statue last summer.
Nance's face contains an expression of confusion and anguish - that of a mother forced to abandon her child, Wood said.
In addition to unveiling the new statue this year, the museum now features two new videos that will play for visitors.
"Welcome to Fort Recovery," a video being produced by high school teacher Diane Clung and students Erika Muhlenkamp, Nicole Dilworth, Stacy Gehle and Gena Wendel, should be finished by June, Knapke said.
The video will be shown to all museum visitors and feature various shots of the village as well as battle re-enactments and military history.
"We've seen clips of it all along the way," Knapke said, pointing out she is very happy with it.
A short video about Indian articles will be shown in the prehistoric Indian artifact display area of the museum.
"So when people are looking at all those (spearpoints and arrowheads) ... they can watch the video," Knapke said, adding the Fort Recovery Foundation financed the TVs and DVD players for the museum.
Last year, the museum recorded the highest amount of patrons ever, Knapke pointed out.
"We hope you think it is a good investment and that you, your family and this museum receive a good return on your investment," Knapke wrote in a monthly museum newsletter.