Friday, April 17th, 2009
Sanning, Dues enjoying success
By Mike Ernst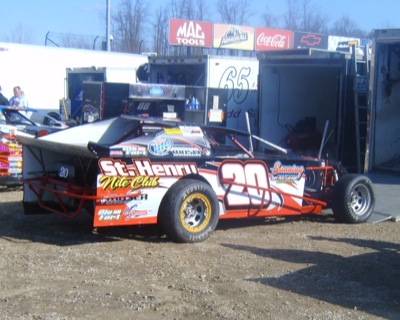 It started innocently enough with a short conversation in 2003 for Coldwater's Chuck Sanning and St. Henry's Bill Dues.
Sanning was going to help Maumee's Brian Ruhlman build a modified to race at Eldora Speedway. Sanning, who was on the crew that led ARCA driver Bob Brevak to the 1990 series championship, shared some of his ideas with Dues, who also had spent some time racing asphalt late models in the late '80s and early '90s.
A short time later the duo decided to own the modified together and Ruhlman would do the driving.
"We didn't have much dirt experience, but really, regardless if you're racing on dirt or asphalt, you are always trying to do the same two things - find traction and go forward," Sanning said.
"We were not real sure what we were getting ourselves into," Dues added, "but looking back, I guess it has worked out all right."
All right indeed!
The partnership of Sanning and Dues has won four Eldora Modified Track Championships and over 30 races in the past six years at the one-half mile, clay oval. Brian Ruhlman captured the title in the team's initial season in 2003, while his brother Chad won two titles and Wapak's Jerry Bowersock captured the crown last season.
"They are great guys to drive for," Bowersock said earlier this week from the team's race shop. "Their cars are really prepared well and they have a lot of power, which you need at Eldora."
The racing operation has grown to now also include, not only two modifieds, but also two dirt late models, which are driven by Chad Ruhlman and Scott Orr, a five-time Eldora track champion himself. In addition, Sanning, Dues and crew help maintain a third late model, which is owned and driven by Bowersock. In all five cars operate under the guidance of the two men.
Brad Sanning, Chuck's son, Scott Everman and Nick VanMeter help prepare the cars, and this week they will be especially busy. Saturday night Eldora Speedway hosts the American Late Model Series (ALMS), UMP Dirtcar Modifieds and Eldora Stock Cars. With the late models and modifieds both on the schedule, Dues, Sanning and crew will have a hand in preparing five cars.
"The first goal is to get all five cars into the feature event through the heat race," Sanning said. "If you don't have to run the B-main's you save a lot of work and have a little extra time to make sure everything is ready to go on the cars for the features."
Dues added, "Last fall we put all five cars in their feature event one night. That was pretty cool. Not too many have accomplished that."
With five cars and three drivers, one might think that if you get one car set-up correctly you will have the set-up for all the cars. That is not at all the case according to Sanning.
"Every driver has a different style and is looking for something different in the car. Chad likes the car much more loose than what Jerry does, so the set-ups are not even close to each other," he said. "Then you add in the fact that each particular car is different and it becomes real challenging."
While the duo has certainly put a lot of talent behind the wheel of their cars, they know the most important part of their racing program has been their sponsors, many of which have been with the team since the start seven years ago.
Sponsors on the five cars include the St. Henry Nite Club, Sanning Service Station, Miller Lite and Mercer Beverage, Stachler Concrete, Moser Engineering, Creekside, U.S. Foods, Koesters Spouting, Central Star Drilling and Ron Gorby. Despite the tough economic times the country now faces, most of the sponsors have returned to the team this season.
"We have great sponsors," Dues said. "We couldn't do it without them."
"We wouldn't have anything without those folks," Sanning said. "They have been big supporters of ours."
With all the sponsors being area businesses, the Eldora events are really important to the team.
"Eldora is our home track," Sanning said. "If they have modifieds or late models on the schedule we will be there. It doesn't hurt that it is just five miles down the road either."
Dues added, "We love racing there and our sponsors and fans can come out and watch us. It is really nice to have one of the top dirt tracks anywhere in the country right in our backyard."
On Eldora's off weekends the team will travel to other race tracks, but most of the team's goals center around Eldora. They would like to successfully defend the modified championship and battle for the late model title as well. They also have their eyes set on the big national late model events, the $100,000 to-win Dirt Late Model Dream and the World 100, scheduled later in the season at Eldora.
"We would really like to make one, if not both, of those events," Dues said. "With more than 200 cars at those races, it is really tough just to make the feature events. We have been close. We missed The Dream by two spots once and the World 100 by one. I really think this is the year we can get in there."
Action Saturday night at Eldora takes the green flag with warm ups at 6:00 p.m. and the first race at 7:30 p.m.