Friday, April 17th, 2009
Parkway takes advantage of walks
By Gary R. Rasberry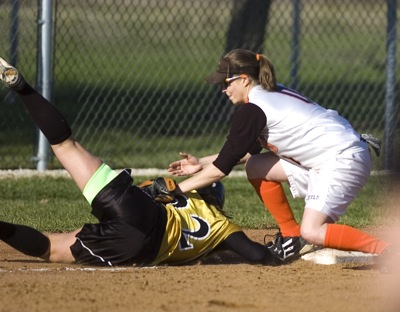 COLDWATER - Parkway batters took advantage of nine walks issued by Coldwater pitching and benefited from a four-hit pitching effort from Emily Crowell to open Midwest Athletic Conference play with an 8-1 win over the Cavaliers at Lady Cav Diamond.
The Panthers, coming off a pair of losses against two solid pitchers on Saturday, improve to 3-3 overall and 1-0 in the MAC while Coldwater drops to 5-3 on the season and 0-1 in league play.
Parkway had plenty of chances to score through the first three innings, but stranded eight runners, including leaving the bases loaded in the second and third innings with just one run to show for it.
"We didn't take as much advantage of the walks as we would have liked," said Parkway skipper Mark Esselstein. "We could have been up a couple, three runs the first couple innings. We didn't make good contact when we got them in scoring position (Parkway left 12 total on base). After that, I told the kids, up and down the order, we got contributions. If we can show that balance, we can be a good team."
Things changed in the fourth inning as Crowell reached on a two-out infield single. Crowell gained two bases on a wild pitch, then came home on a throwing error on the throw to third to make it 2-0. Cavalier pitcher Brooke Gillis then walked Megan Ketchum and Hannah Beougher to get to Katlyn Smith, who singled in courtesy runner Paige Kelley. Danielle Matthews followed with a two-run triple, allowing Parkway to go up 5-0. The Panthers added three in the top of the seventh.
Gillis struggled with nine walks and four wild pitches on the day, scattering 10 hits while striking out three.
"Brooke's a better pitcher than what she showed today," said Cavaliers coach Jeff Kerr. "She didn't have real command of her pitches. The walks came back to hurt us.
"At times, I thought we were a little lazy on defense (Coldwater committed three errors, with all but two runs unearned). There's things we'll need to work on."
Meanwhile, Crowell was cruising in the circle. With the exception of leadoff batter Haley Stucke, who went 3-for-4 and a fifth inning single to Gillis, Crowell limited the Cavaliers to two walks while striking out seven. The lone run for Coldwater came in the fifth as Gillis came home on an error.
"She could just rear back and throw strikes and let her defense play behind her," said Esselstein of his sophomore southpaw.
"We got Haley on third (base) three times and failed to get her in," said Kerr. "That could have made a difference because at the time it was a 1-0 game, then 5-1 at one time. We just couldn't get her in."
Smith went 3-for-4 with an RBI. Crowell, Ketchum and Chelsie O'Neill each added two hits.
Both teams are back in action on Monday. Parkway faces Minster at Rockford in MAC play while Coldwater will host Wapakoneta in a MAC-WBL battle. Parkway's scheduled doubleheader at Fairmont on Saturday has been canceled.