Friday, May 15th, 2009
Local dealerships remain open
By Shelley Grieshop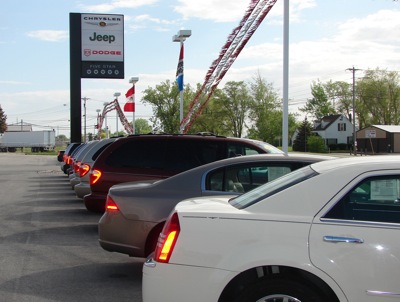 Both Grand Lake area Chrysler dealerships - with businesses in Celina, St. Marys and Wapakoneta - escaped the ax this week after their parent company announced the closing of 789 dealerships across the U.S.
Chrysler officials intend to eliminate 47 dealerships in Ohio as a bankruptcy liquidation action in order to form a "new" Chrysler company.
Bud Schoenleben of Bud's Chrysler Dodge Jeep in Celina and St. Marys, said he received a letter Thursday from the corporation explaining the situation. The letter, dated May 13, said Chrysler has designated the local business as a sales and service dealer with the new company.
The letter is something head Chrysler officials had to do to comply with bankruptcy regulations, he said.
Schoenleben said reducing Chrysler dealerships is the orchestration of the current presidential administration.
"This is part of the Obama administration. They want to reduce our ranks to be more like Honda or Toyota," he said.
Schoenleben said each dealerships is one of Chrysler's customers, too - not a liability that needs to be terminated.
"We keep them going. When they sell us a car, a part or anything else, we pay for it up front," he said.
Dealerships aren't doing as well as they used to years ago, but the ones in the local area are holding their own, he said.
"We believe we'll be the last one out the door," he said. "We're here to stay."
The news announced this week came as no surprise to Chrysler dealers.
"We've known about this for some time," he said. "With Chrysler declaring bankruptcy, they want to form a new, more powerful Chrysler."
Schoenleben said the dealership expects another letter to arrive today about the GM portion of his business. He explained that each dealership has a 5-year agreement with GM, which expires in October 2010. The notification will likely inform franchises which dealerships will get renewed, which will not.
Scott Nuttle, general manager for St. Marys Chrysler Dodge Jeep, said the local company has bittersweet feelings on the issue. They have sympathy for the dealers who are forced to close, yet are pleased their own dealership is allowed to move forward with the new Chrysler company.
It's been good news for our 42 employees, he said.
"We've had fantastic business this past year," he added.
Nuttle said in November, St. Marys Chrysler opened a satellite site north of Wapakoneta, "Rick's 501 Motors," and it continues to prosper, despite the lagging economy.