Friday, May 15th, 2009
Redskins top Indians again, 1-0
By Ryan Hines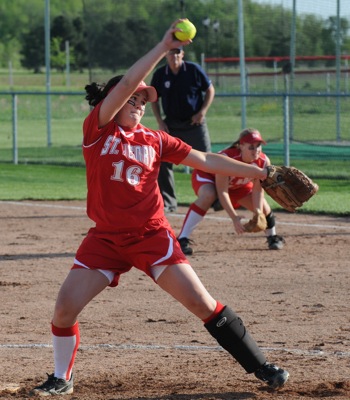 NEW BREMEN - It must feel like deja vu for the Fort Recovery softball team.
For the second time in the last 10 days, St. Henry pitcher Michelle Stout twirled a shutout against Fort Recovery as the Redskins marched to a Division IV sectional title on Thursday with a 1-0 victory over the Indians.
St. Henry (16-5), which also beat Fort Recovery (7-13) by a score of 1-0 on May 5, will now play in the district semifinals on Tuesday against Parkway.
"Fort Recovery beat us last year in the tournament and I think that our girls really wanted to come out and play well today to try and make up for that," said St. Henry head coach Josh Link. "We had to make plays to win this game and fortunately enough, we were able to do that. We knew that it was going to be a tough game and it certainly was."
"They (St. Henry) are playing really well right now and I wish that we could be on the other end of this one, but they deserve a lot of credit for the way that they've been playing," said Fort Recovery head coach Marie Osterholt. "We played well, and I'm really proud of the way that they played... Things just didn't work out in our favor and we fell a little short."
Stout, who threw a one-hitter in the regular-season matchup 10 days ago, fired a two-hitter with six strikeouts on Thursday against the Indians, drawing praise from Osterholt.
"She's a heckuva pitcher and she just did a great job for the second time this year against us," said Osterholt. "She kept us off-balanced all game long. We put the bat on the ball but their defense did a good job behind her too."
Lost in the pair of 1-0 defeats, is the fact that Fort Recovery's Kinsey Wenning threw two strong games in losing efforts. Wenning allowed just one run on five hits on Thursday with the lone run coming in the fourth inning to break a scoreless tie.
Stout led off the fourth inning with a solid single and then came around to score shortly thereafter as Olivia Hart delivered a blast into the right-centerfield gap that split two Fort Recovery outfielders.
"We didn't get a lot of hits today, but we were able to string a couple together there in the fourth and with the way that Michelle was pitching and the way that our defense was playing, it was enough," said Link.
The one run was enough for Stout to pick up the victory on the hill as she retired the final 14 Indians hitters of the game with some sparkling defense from the Redskins' defense, which played errorless softball.
"I just tried to keep the ball low on them and not give them anything too easy to hit, but I have to credit the defense behind me because they bailed me out on a few plays," said Stout. "Rachel saved me once and then Lindie saved me at least a couple of other times. Our defense played a great game."