Wednesday, June 10th, 2009
Mariners still unbeaten in preseason contests
By Mark Ruschau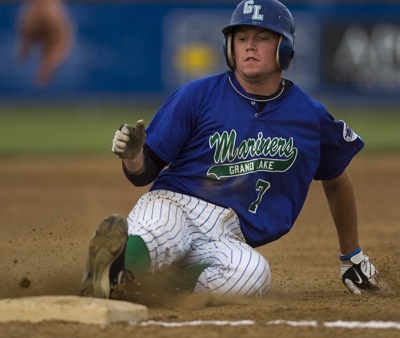 The Grand Lake Mariners continued their successful run through the preseason slate on Tuesday night as they defeated the Decatur Dirty Birds 4-2 at Jim Hoess Field behind great pitching and timely hitting.
The Mariners improved to 5-0 this preseason. Grand Lake will cap its preseason this week playing host to the Portland Rockets tonight and the Michigan Monarchs on Thursday before opening Great Lakes Summer Collegiate League play on Friday at Lima.
Grand Lake got on the board first, scoring twice in the third inning. Brian Lambert was hit by a pitch to start the inning and was sacrificed to second by Payton Bieker before scoring on a single by Jeff Holm, with Holm taking second on the throw home. Holm stole third and later scored on a sacrifice fly by Tyler Rogers.
The Mariners added a pair of insurance runs in the fifth and again Lambert was the catalyst as he led off with a single, stole second and scored on a fielder's choice by Gabe DeMarco.
DeMarco went to third on a single by Tyler Rogers and scored on a sacrifice fly by Cameron Stykemain.
Lambert, a junior-to-be from Indiana University, made a big splash in his Mariner debut as he went 2-for-3, with two runs scored, a double and a stolen base after being added to the roster on Tuesday after season-ending injuries to Kory Benbow.
"Brian was the lead-off hitter for most of the season for Indiana and he's used to leading off. We talked before the game and I told him just to do his thing," said Mariner first-year coach Brandon Tormoehlen. "With Kory Benbow going down, we brought him and he was able to contribute right away. He showed up ready to hit, I liked his approach at the plate and I like that in ball player. He is from a good program, I know he is going to be well coached and it definitely showed tonight."
Grand Lake collected eight hits, by seven different players, against Decatur.
"As for the hitting, the guys have been off for a couple of weeks and they have not seen live pitching for a couple of weeks and it is tough to assess the hitting after just five games," commented Tormoehlen. "We have had some good swings, hit the ball and for the most part we are hitting the ball on a line on the ground and that is a good sign."
The early runs were all the Mariners' pitching staff needed as a quartet of pitchers limited Decatur to five hits and two runs, walking just one, while striking out 12.
Grand Lake starting pitcher Derek Grabner turned in a stellar performance, pitching five innings of two-hit shutout baseball. Grabner did not walk a batter, while striking out nine. Adam Wagner struggled in his first inning of relief hitting two batters and allowing two runs on two hits. Wagner bounced back in his second inning of work as struck out the last two men he faced.
The final two Mariners hurlers, Scott Montgomery and Andy Lowe, each pitched a shutout inning.
"Derek did a nice job tonight," said Tormoehlen. "For the most part he worked ahead of hitters and threw strikes. His fastball was definitely on tonight, he was definitely overpowering some of the hitters. When you have a fastball that you cannot hit, as long as you throw strikes, you will be tough to hit.
"Pitching wise, I think we are going to be solid. Pitching and defense are going to be the backbone of this team," stressed Tormoehlen.