Tuesday, June 16th, 2009
Former UConn star helps at Celina camp
By Gary R. Rasberry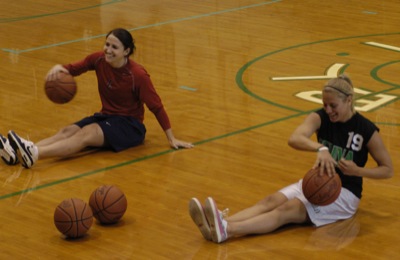 Mel Thomas was probably a little nervous when she was talking to the group of girls basketball players on Monday at the Celina Fieldhouse, as it was her first speech in front of a group.
She was a little more in her element when the basketballs came out.
The former standout at Ohio big school basketball power Mount Notre Dame and at the University of Connecticut showed off some of her skills in drills while talking about her work playing Division I high school and NCAA Division I women's basketball while promoting her book "Heart of a Husky."
Speaking for just over a half-hour to the group of girls in attendance for the Celina Girls Basketball Camp, plus parents and coaches and players from other schools in the area, Thomas, a native of Cincinnati, had a little fun showing off some of the dribbling and passing drills she worked with. Getting former Celina standout Kelsey Waterman out of the stands, Thomas impressed the crowd with her ball-handling.
Thomas talked about the work that had to be done to play basketball on the level she currently plays on. Thomas talked about the main things were hard work and believing in yourself.
"I think those are the two most important things that Coach Auriemma (long-time Huskies coach Geno Auriemma) taught us at UConn. Without those, you can't make it anywhere," said Thomas, a three-time Big East Academic All-Star and a graduate of the UConn School of Business. "Those two things alone will get you anywhere you want to go.
"Another important thing is having fun along the way. If it ever gets to be a job or a chore, it's not worth it. You have to enjoy it."
Thomas, currently playing professional basketball in Ireland, talked about continuing her playing even after tearing her ACL as a senior at UConn.
"It wasn't even a question," said Thomas during her speech about rehabilitating, "Basketball is what I love to do."
Thomas is happy about taking time to speak to the next generation of basketball players, something she saw a lot going to camps when younger.
"I think it's great. It's such an honor and a privilege," said Thomas. "When I was their age, I looked up to other players. I know how much they meant to me and how much they helped me along the way. I think it's great to help influence kids in that same way."