Thursday, June 18th, 2009
The scoop on working actors revealed in author's new book
By William Kincaid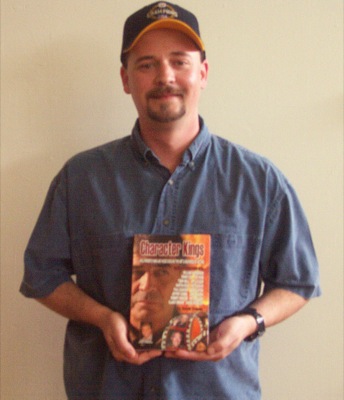 Images of Hollywood and actors commonly show fame and fortune.
But that's not the case for most of the 120,000 performers in U.S. acting unions. Only around 4,000 of those entertainers work regularly, according to Celina writer Scott Voisin.
Voisin's book to be released next month, "Character Kings," reveals the truth about working actors.
"I don't think it's nearly as glamorous as it looks. That's just not how it is," the 36-year-old said in a recent interview.
Voisin, a freelance writer and columnist for GameRoom magazine, began pursuing a book in 2005 about the actual business side of movie making. He decided to use interviews with 15 actors.
His subjects: Character actors, those familiar faces that Voisin said are often seen in movies but whose names are often unrecognized. These men, who according to his introduction aren't necessarily millionaires or featured in magazines, are "the lifeblood of Hollywood."
"It's a job for these guys - they're just like us," he said about character actors, pointing out that even though they are artists, many must take on blue-collar jobs like moving furniture, serving drinks and waiting tables to make ends meet.
Some of those featured in his book include Paul Gleason, the contemptible principal from "The Breakfast Club;" Keith David from "Platoon;" James Karen from "Wall Street" and "Poltergeist;" and Tobin Bell who played the diabolical killer in the "Saw" movies.
Through his lengthy interviews, Voisin said he learned many maxims about the acting business.
Before his research, he often wondered why such a talented actor would be in such a rotten movie.
As it turns out, Voisin said many things can go wrong, even if the original script is competent or fascinating. The actual shooting and editing of a film, ego wrestling between those involved in the film and financial shortfalls of production are just a few of a hundred things that Voisin said can sabotage a movie.
And other times, the actors are aware the movie is "going down right before their eyes," he said.
Voisin also discovered that many veteran actors aren't picky about scripts; often they're simply looking for work to make enough money to live for the next three or four months.
Asked about the key to career longevity, Voisin said luck plays a big part, according to those he interviewed.
Voisin also said many actors seek other interests in Hollywood because of the limitations of their vocation.
"You don't really have any control as an actor," he said, adding that many also write and produce.
In the past, established actors could get a part without even auditioning. That isn't always true now, he found.
"Talent doesn't really rule as it should or used to," he said, adding that many feel attractiveness is as desirable as acting ability.
In his book, Clancy Brown - the craven police guard in "The Shawshank Redemption" - speaks about one of his breakout roles in the movie "Highlander," which also stared a high-paid Sean Connery.
Brown, who played the sword-wielding villain Kurgan, said he wasn't paid much for the role.
"So they hired me because they couldn't get (Arnold) Schwarzenegger ... and I was cheap. They paid me dirt. It was not as smooth of a production as any of the ones I had done because of the producers getting in the way ... they weren't very experienced or professional," Brown said in the book.
Voisin, who completed the book in December 2008, said he now wants to pursue a similar book on actresses. That may prove difficult though, as many women don't have the same longevity as men because of gender biases based on looks, he said.
Voisin, who graduated from the Art Institute of Pittsburgh with an emphasis on special effects, turned to writing after computer-based effects, such as those in "Jurassic Park" and "Terminator 2" made his training somewhat obsolete.
"It was really a shift in the industry and we got caught in the middle," he said. "It was the new thing - everybody was jumping on the bandwagon."
His specialty: cuts to the throats and shots to the head.
"I wasn't interested in directing, but I've always had a writer background in me," he said.
Voisin, who is married and has two daughters, has no plans of leaving Celina, as writing can be done through the Internet now, he said.
"Character Kings" can be purchased at www.amazon.com and at www.scottvoisin.com.