Thursday, June 18th, 2009
Boeckman gets NFL contract with Jaguars
By Gary R. Rasberry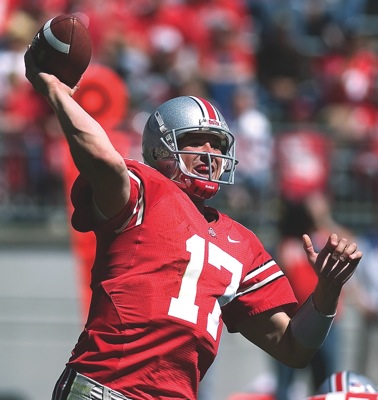 What started out to be a tryout turned out to be the opportunity that Todd Boeckman has been looking for.
The St. Henry native and former Ohio State quarterback signed a contract with the NFL's Jacksonville Jaguars on Wednesday after having a workout session with the team earlier yesterday morning.
The Jaguars released Cleo Lemon, last year's backup quarterback, earlier in the day.
Boeckman, talking via telephone from Jacksonville on Wednesday evening, described the day as "crazy."
"Kind of crazy. They called on (last) Friday asking if I could come to a workout," said Boeckman. "I was in Alabama on vacation with my family at the time. They flew me in from Alabama to Jacksonville.
"I got in and started doing some drills and then threw for about 20 minutes. I was having breakfast (afterward) and the General Manager called, then they signed me. All in a blink of an eye, it was exciting."
Boeckman likes what he sees from the Jaguars from the early look he has had.
"From what I've seen, they're a first-class organization," said Boeckman. "From GM to coaches to players."
With Lemon released, Boeckman will likely battle with Paul Smith for the third-string job as veteran signal caller Todd Bouman appears to be the backup for David Garrard going into training camp later this summer.
"I'm going to compete and do what I can," said Boeckman. "Hope I can do well."
Boeckman will get to work with a veteran quarterbacks coach in Mike Shula, son of Hall of Fame coach Don Shula. The younger Shula quarterbacked and later was head coach at Alabama and has helped the Jaguars' quarterbacks in his three years with the team.
"I look forward to working with him," said Boeckman. "Coming from the Shula family, he has a lot of knowledge of the game and has been around some great players."
Boeckman won't have time to rest. The Jaguars have their final organized team activity (OTA) of the offseason today.
"I have the OTA Thursday and the rookies will stay around Jacksonville until the first part of July," said Boeckman.