Saturday, September 5th, 2009
Growing gourds
Mendon area man stretches crop to the limit
By Janie Southard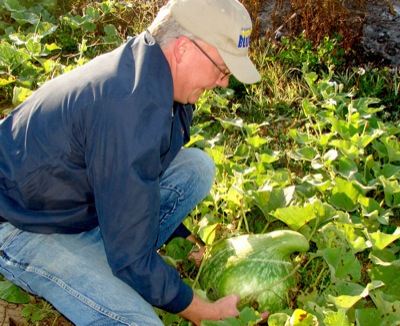 MENDON - The rectangular framework covered in vines in the Stilwells' side yard is home to a bountiful crop of different gourds: apple, kettle, snake, dippers among others.
David Stilwell calls it his patch of gourds, but it's really much more than a patch. The vines stream out at least 30 feet and show no sign of stopping. He says the vines will produce until frost.
"I guess I built (the structure) after I read somewhere that the higher the vine grows the longer the gourd will grow," he said as he adjusted a long, slender gourd inside the open-ended board and chicken wire structure he calls Son of Gourdhenge. The original Gourdhenge did not survive.
The long, slender gourd is the one he thinks may win at the Ohio Gourd Show in a couple weeks at the Darke County Fairgrounds. He's won before so he knows what he's talking about.
At his son's suggestion, Stilwell dug a hole beneath the 5-foot-long gourd that hangs from a vine on the east fencing of Gourdhenge so it has more distance for growth. Actually that gourd is one of a whole bunch growing inside and outside the henge. (A henge is a prehistoric circle of stone and wooden uprights, e.g. Stonehenge in England. Stilwell's henge is rectangular.)
"This year's crop is doing okay. We had a pretty cool summer and gourds like hot weather. But it's better than last year," he said.
Some of the gourds presently thriving in his garden along state Route 197 include: basketball, cannonball, apple and kettle as well as the dippers and the hourglass type that make birdhouses.
Thick vines keep Gourdhenge shady with just a ray of sunlight breaking through here and there. Several long gourds and long-handled dipper gourds hang from the ceiling with other varieties creeping up the sides. To the north is a small garden, colorful now with red tomatoes, vibrant zenias and wise-looking brownish sunflowers. To the south vines are making their way into the lawn and already have climbed into the compost heap.
"This one (gourd) was growing around fence wire in the compost," he said. "It was just something that happened. But there are people who grow gourds in molds. One guy put a small (still growing) gourd in a bottle. When it was big enough to fill the bottle, he broke the bottle, and the gourd was bottle shaped," said Stilwell, who started cultivating gourds after he visited a gourd show with his mother, Susan, who lives and operates a craft shop in Hocking Hills.
Although his mother works with dried, hard-shell gourds, painting them and cutting them, she can't grow them well in her woodsy area of Ohio. So, she once gave him the seeds and said, "These will never grow at my house. You take them."
Of cultivating, he said he starts the seeds inside in the spring.
"They start real slow. You think they're dead. But once you plant them in warm weather, you can almost see them grow. They do not like cold weather. I put my plants out too early a year ago and they didn't do well at all," he said.
Much of his harvest goes to Hocking Hills but he keeps some and, once they're dried, he makes bird houses and art pieces of the unusual shaped ones. To color them he uses leather stain, like you would use for saddles, boots, etc.
"I tried other paints but nothing else would stay in place," he said.
The gourds he's finished are in rich stains of red, gold, brown and even green.
"Mary Jo (his wife) said I should paint some of the apple gourds green. I don't think this is the right green," he said, holding what looked like a giant Granny Smith on vitamin therapy. It's green color is a rich, jewel tone, as are the reds and golds he uses on the bird houses and ornamentals.
A gourd guy through and through, Stilwell is working on perfecting an apple green color that will be seen as more authentic - well, seen by all but him. He's red/green color blind.