Wednesday, December 23rd, 2009
Local man off to Asia to make it over 30 countries in 30 years
By William Kincaid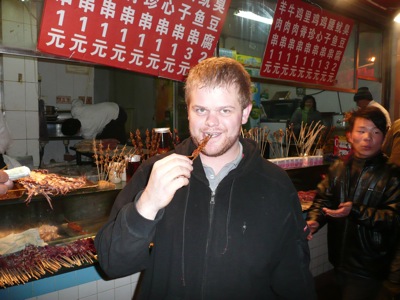 As local residents prepare for Christmas celebrations, Philothea native Eric Dues departs today for Hong Kong for a 61/2 -week self-guided tour of Southeast Asia.
Dues, a 30-year-old bridge designer and inspector at Gannett Fleming, Columbus, plans on visiting Singapore, Bali, Kuala Lumpur, Bangkok, Chang Mai, Northern Laos, Vientiane, Siem Reap, Phnom Phen, Ho Chi Minh City, Hoi An, Da Nang and Hanoi.
The solitude and experiencing new places is the appeal for Dues, who already has traveled to 30 countries, including England, Greece, Germany, Sweden, Russia and Mongolia.
"I've just been in this pressure cooker job," Dues said, adding that he's been working 65 to 70 hours a week for several months now.
Dues is able to take the extended sojourn from work after accumulating personal days during the last two years.
"It is very nice to just let everything go every few years and have a big and complete release from the stress," he said
A fully-vaccinated Dues, who will take a boat ride on the Mekong River through the jungles of Northern Laos, said foreign travel to largely non-English speaking countries necessitates the retrieval of survival skills.
"It's like you're a 4-year-old child," he said.
After securing temporary residence at hostels - cheap lodging establishments for travelers - Dues will explore a city or area further, often using non-verbal gestures to get what he needs. When dining, Dues, who eats mostly at street vendors, stays away from leafy vegetables that may contain bacteria. As long as the food is cooked, it's usually safe, he says.
"I like eating the crazy stuff - the bugs," he said, adding that he also has eaten seahorses, silk worms, scorpions and deep-fried lotus root.
Carrying vodka helped him make friends while traveling on Russian trains for his Trans-Siberian trip in the fall of 2007, he said.
Dues - who carries everything with him in a small backpack - travels by taxis, boats, trains and airplanes. In some cities, simply paying someone with a car can get him around, he said.
"You have to expect a level of discomfort," he said, recalling a 10-hour trip on a bus.
In addition to floating down the Mekong River on his tour of Southeast Asia, he also wants to ride an elephant.
While in Cambodia, he plans on visiting an ancient temple as well as the notorious killing fields where millions were killed by the Khmer Rouge regime. People have to be willing to look at war, he said.
"The American people are shielded from it," Dues said while talking about places and people he has encountered affected by war.
Personal encounters - even when communication has proved burdensome - is another pleasure of traveling, he said.
"Meeting people from round the world is one of the great joys in traveling like this. I actually found out that in Kuala Lumpur I am staying one block down from a Colombian girl that I met in Beijing ... on my last trip," Dues said.
World travel, according to Dues, is not expensive as it may seem, pointing out his upcoming tour will be cheaper than what a family of four traveling to Disneyland would pay.
"You can do it for real cheap," he said, adding that hostels can cost as little as $9 a night.
Dues began traveling after he accepted a scholarship to study engineering in Newcastle, England, in 2004.
"That was the biggest opportunity of my life," he said
Since then, he has continued to travel.
"When you get home from a big trip like this you tend to view life through a different lens. You see the world from a different perspective," he said. "The demands and stresses of my daily job seem minor in comparison to the problems other people in this world have to deal with on a daily basis."
Dues admits his travels scare his mother, Marge, and girlfriend, Lora, but has spawned the same interest in his younger brother, Trent, who recently left for Ireland.
Dues, who will chronicle his journeys at http://efdsea.blogspot.com/, is scheduled to come home Feb. 8.