Wednesday, December 23rd, 2009
Bulldogs earn road victory at St. Henry
By Ryan Hines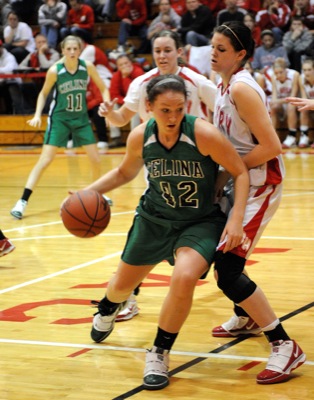 ST. HENRY - The Celina girls basketball team played a road game for the first time this season on Tuesday night and Bulldogs head coach Brian Stetler had to like what he saw from his team.
Celina used an aggressive defense and had three players in double figures on offense to throttle St. Henry on its home floor with the Bulldogs picking up a convincing 59-37 victory.
"I think that you will always be concerned how you are going to play on the road for the first time before you do it, and I was happy with the way the girls came out and responded," said Stetler, whose team started the season with five straight home games. "Nice to win on the road and it's nice to go into the holiday break with a win."
The Bulldogs (6-1) traveled to St. Henry (5-3) and used an aggressive defense to get off to a good start. Celina guards Katelyn Moorman, Candra Francis and Mackenzi Rutschilling harassed the St. Henry backcourt into 11 first-quarter turnovers as the Bulldogs charged in front 13-6.
"Applying pressure defense is the type of game that we like to play and I thought the girls did a good job of playing defense, especially in the first half," said Stetler. "We played good defense in the fullcourt and in the halfcourt in the first half and I thought that was the key to us getting off to a good start. Our guards did a good job of pressuring them."
Celina closed the first quarter with nine straight points and then opened the second quarter with seven more to complete a 16-0 run that put the Bulldogs on top of the Redskins, 20-6.
Candra Francis and Cenzie Yoder guided the Celina offense to a 28-13 advantage at halftime as the two seniors scored all but two of the first-half points for the Bulldogs with a lethal inside-outside combination. Francis scored 16 of her game-high 22 points in the first half.
It never got better for St. Henry in the second half as Celina's defensive pressure made it difficult for the Redskins to run their offense. The Redskins committed 24 turnovers in the game.
"I would say that their pressure was a big factor in the game," said St. Henry head coach Jeff Roessner. "We tried a few different ways to attack it, but we never handled it very well and never could find an answer to it."
Francis was only one of three Bulldogs to score in double figures on the evening as Yoder finished with 13 points and 10 rebounds while Abbey Welker scored 10 points and had six rebounds (all offensive).
"Candra got some good looks and knocked them down, Cenzie hurt them down low a few times and we got a big lift from Abbey on the inside," said Stetler. "Candra hit some shots to open up the inside for Cenzie and Abbey."
Celina built the lead to as many as 26 points early in the fourth quarter before settling for a 22-point win.
Heather Rammel scored 12 points and had nine rebounds to lead St. Henry while Kenzie Bruggeman contributed 10 points.
The Bulldogs are off for the rest of 2009 and will be in action again on Jan. 7 with a Western Buckeye League contest on the road at Wapakoneta. St. Henry returns to the floor again on Monday with a road trip to St. Marys.