Tuesday, December 29th, 2009
Comforting our soldiers
Area women sewing neck pillows for service men, women overseas
By Betty Lawrence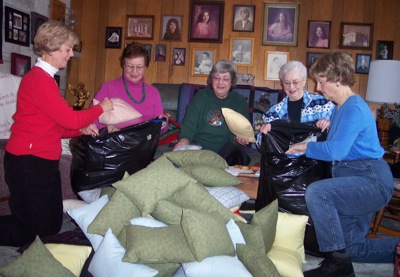 A couple hundred American servicemen and women who will be deployed to Afghanistan in January will rest their weary heads a little easier thanks to pillows handmade by a group of Celina area ladies.
The small pillows, perfect for tucking behind the neck, fit in the soldier's backpacks when they go out on missions.
The pillow project was the inspiration of Pat Corle of Menchhofer Woods, whose granddaughter, Meagan Karr, had made one for her husband, Lt. Kristopher Karr, serving with the Kentucky Army National Guard, 2123rd Transportation Company, based out of Richmond, Ky. This unit will be mobilized on Jan. 5 for its second tour of duty.
"Meagan had made one for her husband and the other soldiers liked it and it grew from there," Corle said. "The Army doesn't provide anything like this. You see pictures of our soldiers using their helmets, and sometimes, their boots to support their heads when they rest. This gives them something more comfortable."
Helping with the project are several of Corle's close friends, who call themselves the "Senile Sisters."
"We get together once a month to socialize and since we are older, that's where the senile part comes in," Corle laughs.
The ladies began cutting, sewing and stuffing right after Thanksgiving.
"My sisters were such a big help. When I told them about making the pillows, they all decided to chip in. So, it was a gang effort, and some of my Red Hat sisters also helped out," she said.
The pillows, roughly the size of an airplane pillow (12-by-9 inches) are made of cotton muslin filled with polyfill. The cotton pillowcases open in the middle, allowing for easy removal for cleaning.
Much of the material and polyfill were donated and some were purchased by the group, she said.
The 200 pillows, which take up a good portion of Corle's spare bedroom, were to be picked up by her son Gary this week. He will take the pillows back home to Richmond in time to pass out to the soldiers before they are mobilized.
"It was a fun project and for a good cause," Corle said smiling.