Tuesday, December 29th, 2009
Redskins put an end to losing streak
By Gary R. Rasberry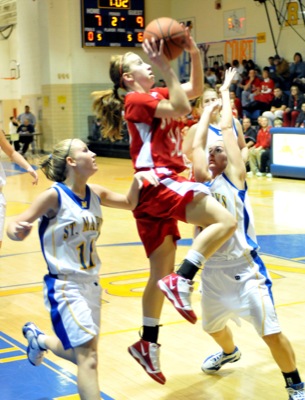 ST. MARYS - St. Henry shrugged off a rusty shooting effort and snapped a three-game losing streak, holding off St. Marys 36-33 at McBroom Gymnasium on Monday night.
The Roughriders dropped their second straight game to fall to 2-4 on the season.
Neither team shot well as St. Henry shot just under 35 percent and St. Marys shot just under 31 percent.
"We didn't shoot very well," said St. Henry coach Jeff Roessner. "What you saw was three guards on the perimeter, each afraid to take the shot, even though they were open, because they didn't want to miss it. If we shoot the ball well, I thought we had plenty of good chances out there, but our players didn't want to shoot those."
"We knew they had a few shooters. If we could go into a zone, it took away their post play," said Roughriders coach Kelly Fulmer. "... Basically, our main goal was to get on their shooters and keep their posts out of the basket as much as possible."
St. Henry took a 9-6 lead after one quarter and used a 13-8 advantage in the second quarter to push the lead to 22-14 at the half. St. Henry was stymied by a zone defense from the Roughriders that kept Redskin post players Heather Rammel and Becky Dirksen in check for most of the night. Kenzie Bruggeman picked up the slack for the Redskins, scoring 12 points in the first half.
"She really hasn't shot the three as well as normal," said Roessner of Bruggeman, who was among the area's leaders in three-pointers last season. "She was tentative. If this was a year ago, she'd have 15 threes tonight."
In the third quarter, though, St. Marys began to make a run. Rachel Wale hit a three-pointer and a deuce that got the Roughriders within two points at 26-24 with two minutes left in the quarter. St. Henry pushed its advantage back to four points, but Erika Thornsberry got the hoop-and-harm three-point play with 39.5 seconds left in the quarter to cut St. Henry's lead to 28-27.
In the fourth quarter, St. Henry got out to a 32-29 lead with two minutes to play and both teams missed some shots and turned the ball over during the next 90 seconds before Dirksen got behind the Roughrider pressure defense and got a layup with 36 seconds left to make it a 34-29 game.
Jo Steva got a putback for St. Marys with 11.5 seconds left to get the Roughriders within three at 34-31, but Bruggeman made two free throws with 7.5 seconds to go to ice it.
"We wanted to play good solid man defense, but early on, I thought that Thornsberry and Steva did a real nice job high-low (post) and got our kids in foul trouble," said Roessner, a reference to the two fouls Dirksen and Rammel each got in the first half. "When Heather and Becky are sitting on the bench next to me, it's not a good sign. Second half, what we tried to do is keep a weak-side guard in to help on that back-side defense. That seemed to be more effective."
Bruggeman paced St. Henry with 16 points and pulled down 12 rebounds.
Thornsberry led St. Marys with 15 points while Steva got the double-double with 10 points and 10 rebounds.
St. Henry is off until Jan. 7, hosting Marion Local while St. Marys returns to action on Saturday, hosting Lehman in a noon tip-off.