Thursday, February 11th, 2010
Coldwater teen on a roll to recovery
Todd Reigelsperger was partially paralyzed in auto accident
By Margie Wuebker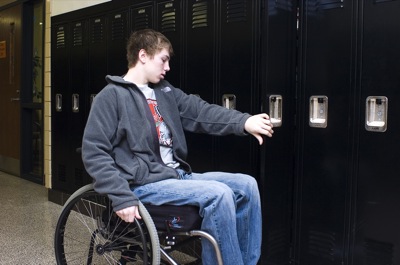 COLDWATER - Todd Reigelsperger cruises the halls at Coldwater High School heading from one class to the next. He flashes a smile as students call out to him or offer to carry the pile of books on his lap.
The senior looks at everything from a different perspective these days, relying on a wheelchair to take him wherever he wants to go.
The Dec. 28 traffic accident that resulted in dissection of his spinal cord remains indelibly etched into his memory. En route to a friend's home to copy a DVD, he felt the 1997 Lincoln Continental he was driving slide out of control on the slushy surface of Siegrist-Jutte Road. The resulting crash seemed to unfold in slow motion.
"I had a death grip on the steering wheel as the car left the road, struck the ditch and then flipped end over end before landing in the field," the 18-year-old said. "I knew something bad had happened because my body did not feel connected anymore. I could move my arms and neck but everything else felt as if it was sinking down."
A neighboring farm family rushed to his aid and called 911. One person in the group - a physical therapist - realized the meaning of his chilling words "I can't feel my legs."
The wail of sirens heralded approaching firefighters, emergency medical technicians and sheriff's deputies. Shaun Seitz, an EMT with the Coldwater squad, remembers Todd being "calm, strong and collected" as responders worked to free him from the wreckage and then carry his stretcher to a waiting emergency helicopter bound for St. Rita's Medical Center in Lima.
The 12-minute trip seemed like an eternity to the teenager.
Doctors quickly determined five vertebrae had been cracked and/or broken with fragments damaging his spinal cord. The prognosis was not good - the young man who played CYO basketball, swung a mean club on the high school golf team, volunteered as a Mass server and worked as a short-order cook would never walk again.
An immediate transfer to a larger facility was recommended. Todd and his parents, Mark and Lora Reigelsperger, chose The Ohio State University Medical Center in Columbus. The trip took 24 minutes by helicopter.
"Father Ron (Wilker) gave me a little cross," he said. "I held it all the way as a link to home and a means of dealing with the pain. "I didn't know anyone could hurt so much."
A battery of tests confirmed the earlier diagnosis and surgery took place the following day. Despite warnings of an 8- to 10-hour procedure, the surgeon emerged after just four to report steel rods were in place to realign the spine and bone fragments had been removed.
Progress came quickly - 48 hours in intensive care instead of the predicted seven to 10 days, and transfer to Dodd Hall for rehabilitation on day nine instead of week two or three.
Nurses and therapists remained optimistic about a better outcome, citing his age and excellent physical condition. Doctors warned time would tell once swelling subsides in the coming months, but they didn't paint a rosy picture.
"Todd has an ornery streak, lots of determination and an amazing sense of humor in spite of everything," Mark Reigelsperger said proudly. "He's not a person to sit still for very long, as the folks in Coldwater know."
The young man admitted his spirits took a gut-wrenching nosedive early on, although he did not let family and friends see.
"Seeing the wheelchair for the first time certainly put things in perspective," he said. "I wanted to kick it into the hall but I couldn't raise my foot. I wanted to be running around with my friends, not learning how to get in and out of that old chair."
Todd found moral support and acceptance from the Dodd "brotherhood" - three other young people 18 and 20 years old facing similar challenges. They understood all too well the emotions and fears he faced.
"You can always find somebody dealing with worse problems," he said. "I quickly realized being paralyzed from the waist down is better than some of the other things I saw."
Therapy filled much of Todd's daytime hours although his movements remain hampered somewhat by a protective "turtle shell" brace. He is counting the days until it's removed on April 1.
The Dodd Hall staff were amazed at the avalanche of visitors, cards, gifts and food that swept into his room only to be replaced in short order. Thirteen friends showed up one day and formed a large circle to recount the latest developments on the homefront. A nurse appeared on the threshold another day with hundreds of cards and letters. Todd reached the bottom of the pile one paper cut and 2 1/2 hours later.
"We're deeply appreciative of all the support that has been directed our way from friends building a ramp at the house to cards and prayers from friends, family and even complete strangers who heard of Todd's plight," Lora Reigelsperger said. "There is no way to personally thank everyone for the support that helped us through some difficult times."
Last week's hospital dismissal and return home paved the way for the honor roll student to return to school with the goal of graduating with classmates in May. Physical therapy remains part of his daily agenda for the foreseeable future.
Todd has two career goals at this point - majoring in physical therapy if he regains the ability to walk, or becoming a teacher and motivational speaker in the event the chair remains his partner.
"I have a really hard lesson to learn," he said. "It's called patience. I've been so used to running off to school, work and friends. Dashing into the shower, quickly pulling on my clothes, racing up and down the stairs and running out to the car are things I took for granted. Everything takes longer these days even though I'm on a roll."