Thursday, February 11th, 2010
Chamber presents awards
Coldwater
By Betty Lawrence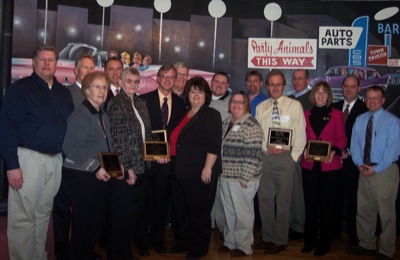 COLDWATER - A large crowd was gathered Wednesday evening for the Coldwater Chamber of Commerce annual awards banquet.
Eight awards were presented, including Citizen of the Year, which went to Chuck Meyer, who was honored for his tireless effort in expanding the annual Coldwater Community Picnic.
"We were able to offer several new events at the picnic and expect even more at this year's picnic," Meyer said as he accepted the award from chamber president-elect Greg Homan.
The Volunteer of the Year award went to Marge Homan of Coldwater. The award is given to recognize an individual for their contributions to the community. The mother of nine and grandmother of 32 was honored for her volunteer work as a 4-H club advisor, Farm Bureau trustee and her commitment to the State of the Heart Hospice and the America Red Cross.
Three local businesses were tapped for the Business of the Year award, including Central Soft Water, the Mr. Shoppe and Homan Real Estate.
Les Quinter and Doug Koesters accepted the award on behalf of Central Soft Water, a longtime Coldwater business. Mr. Shoppe owner Gary Bruns was present to accept his award. Brothers Dave and Tom Homan, with Homan Real Estate, also were on hand to receive their chamber award.
The Organization of the Year award went to the Thanks To Our Yanks military support organization. Representing the group were Bob Rutschilling and Marty Krieg.
"We have been able to mail over 400 packages to local servicemen serving in Afghanistan and Iraq over the past two years, and the individual packages are mailed out monthly," Krieg said, noting they work with Operation Freedom Support, another area military support group.
Mercer Health and Schwieterman Pharmacy were named co-recipients of chamber's Community Improvement award.
Mercer Health recently completed a 16,000-square-foot expansion of Coldwater hospital.
Doug Klosterman, president of the Mercer Health board of directors, received the award from chamber representative Eric Thomas.
"Schwieterman's took the old Jutte's IGA building and turned it into a great asset to our community and we honor them for their commitment," Thomas said.
"We hope to continue serving the area. Working with the village of Coldwater has been a great experience," Bertke said as he accepted the award. Also present for the award was Schwieterman's representative Dave McDonough.
Outgoing chamber trustees Mark Obringer, Kelli Steinbruner and John Yoder also were presented with appreciation plaques.
Incoming chamber trustees are Pete Lisi, with Coldwater Exempted Village Schools; Troy Steinbrunner, with Accutech Films. Inc.; Jill Timmerman, with McDonald's; and Kristi Kahlig, with Innergy Fitness.
Coldwater Mayor Vern Stammen offered his State of the Village address, noting Coldwater was able to complete all designated projects in 2009 with everyone working together in a positive purpose and common goal.
"We have more street and alley work planned in 2010, along with several other projects. Working together, we too will get this done," Stammen said.
The Coldwater Chamber of Commerce membership now stands at 103, Greg Homan informed the crowd, listing off the various fundraisers put on by the chamber each year. Romer's Catering and Overdrive hosted this year's event.