Tuesday, February 23rd, 2010
Lake Campus adding student housing
First of possibly eight dorms may be done by winter quarter 2011
By Shelley Grieshop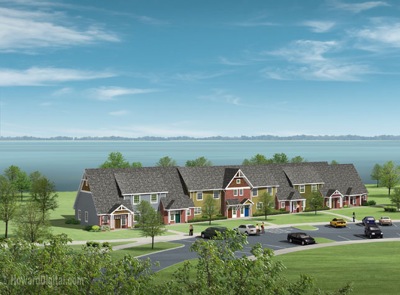 Students of Wright State University-Lake Campus, Celina, will soon have access to a broader campus experience with the addition of on-site dormitories.
University officials hope to have the first of possibly eight dormitory buildings completed by late this fall or the start of winter quarter 2011, according to Project Coordinator Dr. Tom Knapke.
"This is our first experience with something like this," said Knapke, who also serves as the development coordinator for the Western Ohio Educational Foundation (WOEF). "We want to provide a full, comprehensive college atmosphere for students."
The housing units will be available year-round and will be located to the west of the new James F. Dicke Hall on 8.7 acres along Dibble Road. The buildings will have a townhouse design; most will offer living space downstairs and bedrooms upstairs, he said.
Phase one of the project includes the construction of a 6-unit facility with a total of 32 beds. Although design work is still being finalized, officials plan to offer combination units with single and/or bunk bed options.
"For example, one unit may have five beds up and one bed down," Knapke explained.
The cost per student will be $400 per month for shared rooms and $600 for single, said Sandi Holdheide, director of student services and public relations.
"It's important to note that the costs (of the project) are independent of Wright State tuition costs. The housing project will not affect the tuition rates," she said, adding students who qualify for financial aid can use their awards to help pay for housing.
Student interest will determine how many dorm buildings are eventually constructed, she added.
Feedback from student surveys has weighed heavily on many project decisions, Holdheide said.
"We've surveyed students throughout this whole process and we've tried very hard to meet their wishes," she said.
Lindsey Fortkamp is a sophomore at the Lake Campus who is majoring in organizational leadership. As a university student senator, she is one of several students who've met with officials in focus groups to discuss the housing. She believes the dorms will give students like her a choice.
"For me, it's exciting to have this option. I will have a choice to either live at home or be on campus, depending on the experience I want to have," she said.
The 2008 Fort Recovery High School graduate believes the project will attract more students, including those who might typically stay at home with mom and dad.
Student enrollment figures at the Lake Campus continue to break records: 1,225 students are taking winter quarter classes, an increase of 15.7 percent from last year. Applications for the upcoming fall quarter are up 27 percent from fall 2009 and 51 percent from 2008, according to statistics.
In recent years, the Lake Campus began offering several four-year degree programs including nursing, early childhood education and organizational leadership, which have helped increase enrollment, Knapke said.
Another goal of the project is to make higher education more accessible for students who travel great distances, officials said. Currently, about 4 percent of the student body is driving 46 to 60 miles to attend classes by the lake. Another 19 percent travel 31 to 45 miles, according to recent data.
The buildings will be constructed by a local developer but maintained by the university, Knapke said. The developer's name and terms of ownership for the buildings are not being released at this time because a contract between the two parties is pending, Knapke explained.
The land to be used is owned by the WOEF board, which supports special projects that benefit students.
The location of the property is currently zoned "SP" for special parks - a designation that reportedly is common for vacant properties near Grand Lake. The East Jefferson Zoning Commission last week gave its support to change the zoning to "R4" - medium density, multiple family/residential.
Mercer County Commissioners have scheduled a public hearing on the issue for 2:30 p.m. March 11, and later will rule whether to back the zoning change before plans can officially go forward.