Tuesday, February 23rd, 2010
Famous jackets made locally
National FFA Week, Feb. 20-27
By Nancy Allen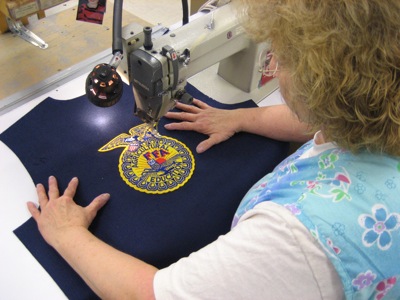 As youths across the nation and locally celebrate National FFA Week this week, they have a company in Van Wert to thank for their famous blue, corduroy jackets tied to the organization.
Universal Lettering Co., 321 W. Ervin Road, actually began as a broom factory near downtown Van Wert in the late 1800s. Shortly thereafter, the broom factory moved into an abandoned piano factory several blocks away and broom making was replaced with the production of denim bib overalls.
The company is now owned by Mark Hoops, Lima, and the general manager is Cory Hoops, Van Wert.
Until about six years ago, all of the company's FFA jackets were made in Van Wert. Though some are now made overseas, the company helped design the first FFA jacket in 1933, Cory Hoops said.
"Some people are still surprised that we still manufacture some of the jackets here domestically," he said Monday. "A lot of clothes most people wear are made overseas, so it's kinda cool some of ours are still made here."
The company's 25 employees usually work one shift five days a week, but each fall, when the company receives orders from students who want their coats personalized, hours increase. All of the personalization embroidery is done in Van Wert.
"We'll run three shifts, 24 hours a day, six days a week for 21/2 to 3 months just to keep up with the personalization orders," he said. "We use embroidery thread on the front and on the back we use a gold yarn."
Personalizing an FFA coat involves embroidering the student's name, office and graduation year on the front and the state and chapter name on the back. A chenille embroider machine, more specialized than a typical embroidery machine, is used to do the yarn stitching on the back.
The making of the front and back FFA emblem has been outsourced to another supplier, Hoops said. In the 1940s, Universal Lettering Co. used to directly stitch the emblems onto the coats, a process that took up to four hours for each emblem.
In recent years, the company began making green corduroy 4-H jackets, but they are not as requested as the FFA jackets. All FFA members are required to wear their official jackets to meetings, but 4-H members are not, Hoops said.
"We ship 65,000 FFA jackets each year, but only a couple thousand 4-H jackets," he said. "Our biggest states for sales for the 4-H jackets are Oklahoma, Florida and California."
Hoops said each FFA jacket is made of 28 different pieces of corduroy fabric. The company makes the jackets for chapters in all 50 states, the Virgin Islands and Puerto Rico. The company also does custom embroidery for numerous other groups.
The company allows tours for just about any group that requests it. In recent years, more FFA chapters have begun requesting tours, typically on their way to attend the National FFA Convention in Indianapolis.
The four FFA chapters in Mercer County are located at Coldwater, Fort Recovery, St. Henry and Parkway schools, and the four FFA chapters in Auglaize County are located at Minster, New Bremen, Wapakoneta and Waynesfield-Goshen schools.
There are 506,199 FFA members 12-21 years old in 7,429 chapters in all 50 states, Puerto Rico and the Virgin Islands, information from the National FFA Organization Web site states.
For information on Universal Lettering Co., go to
www.universallettering.com
.
FFA facts:
The National FFA Organization was founded in 1928.
FFA is a youth organization that is part of agricultural education programs at middle and high schools. Members are engaged in a wide-range of curriculum and FFA activities that lead to more than 300 career opportunities in agriculture.
The letters FFA formerly stood for Future Farmers of America; however, in 1998 the official name of the organization was changed to The National FFA Organization to reflect the growing diversity of agriculture.
For information on FFA, go to
www.ffa.org
.