Friday, May 28th, 2010
Two veterans create new beginning
By Janie Southard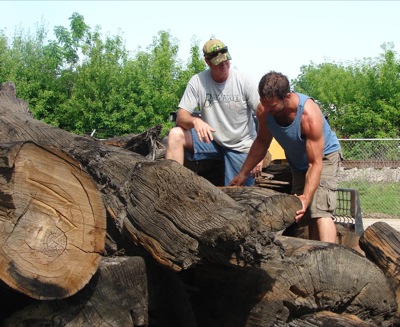 CELINA - A disabled Army veteran, hit hard by the Iraqi war and the slow economy, found a way to increase his recovery odds: Start a company. He's done just that - with a boost from a lifelong buddy, some local folks who took a chance and a collection of old, weathered wood ready for custom design.
Michael Tearcy of Celina was injured during Operation Iraqi Freedom and was worked on by what he calls a "whole crew of doctors-in-training in a series of botched surgeries." Left with intense leg pain and a medical release from the military, he spent years submerged in pain medication, with no money and no prospects of a job.
"Who would hire a guy like me; I was a walking, legal drug addict. I decided I'd have to fix myself. So I went into my own detox program because all the doctors were doing was giving me more and more pain medication. You can't live like that," Tearcy said.
It was during that period that he saw a TV show about reclaimed barn wood. A former union carpenter, he began to tinker with some old wood in a barn his landlady owned. He also did a lot of research.
Around this time he also got a job milking cows at the former St. Charles seminary. An old barn was being torn down there and he noticed an Idaho company was processing the wood and shipping it back home.
"I thought 'Here's this Idaho guy in my own back yard taking all that wood out of here' and that (inspired) me to amp up my whole operation," said Tearcy, a Darke County native.
The vet took on his self-assigned tasks of not only physical rehab but finding somewhere to set up a shop where he could make custom wood pieces from salvaged wood. What he didn't have was money. But he was now detoxed and ready for the challenge.
Turned down frequently as he looked for a warehouse with work space, he finally caught a break when several local folks believed in his idea. Earlier this year, he opened Infinite Wood Concepts/Custom Woodworking at 715 S. Sugar St.
Enter high school buddy, fellow Army vet and now partner Ryan Anthony, who was out of a job after many years of working for a Greenville company, which relocated out of state. Where Tearcy is engagingly pumped, Anthony is stoic and grounded.
"He's the anchor," Tearcy freely admits. "I showed up at his house every day and begged him to work with me."
Not long ago, many tons of 300-year-old stumps and logs rescued from Grand Lake came available. The Concepts team devoted many hours transporting the old wood to their Sugar Street shop.
"This is beautiful wood. It's limitless what can be made from it," said Anthony, explaining the rust-colored band around some of the wood is the muckline from where it laid at the bottom of the lake for a couple hundred years.
Most of the wood appears to be red oak but there are others types, hickory for one.
"It's just waiting here for a custom job, even a chunk of it for a lawn piece. We don't plan to be pumping out tables and cabinets, but we will have some display pieces made, probably by the Freedom Days Festival," Tearcy said.
Already in place is some unique flooring at the shop entranceway. It's pine siding reclaimed by the Concepts crew from six train boxcars. The crew brought the sheets of wood siding back from Kendalville, Ind., last winter during a snowstorm.
"The train cars were mid-1900s, stored in an old foundry," Anthony said. "All were lined with tongue and groove heart pine. I'm guessing the cars were used for refrigeration and the pine sheets were part of the insulation. There was a space between them and the car sides that could have been used for dry ice."
Sometimes the hunt for old wood leads to more treasures, such as a stack of Little Lulu comic books, an early portable Remington typewriter, an old box camera weighing maybe five pounds and most recently, a functional skate park.
A couple weeks ago they were salvaging wood from a farm in rural Rockford, seven buildings in all.
"Up in the loft of one of the barns was a complete skate park with couches and signs, lighting and large (drainage pipes) cut in half. It was definitely used," Anthony said.
While rescuing the wood is no easy job, it's doesn't end there.
"We have to sort it, load it, transport it, unload it, and de-nail it and then stack it for storage," Anthony said.
So far, their best advertising has been word of mouth. It's not unusual for someone to stop by one of their work sites and chat about some prospective job. And that's not a bad way to get the next job, the two partners agreed.