Friday, May 28th, 2010
Newton breaks through in fourth
Division IV Softball Regional at Tipp City
By Ryan Hines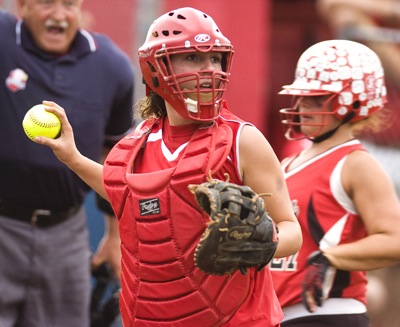 TIPP CITY - The St. Henry softball team managed to wiggle out of danger in the first three innings, but the Redskins weren't so lucky in the fourth.
Newton scored three times in the fourth inning and rode the left arm of pitcher Kirsten Burden on the way to a 3-1 win over St. Henry in Division IV regional semifinal action at Tippecanoe Middle School on Thursday.
St. Henry, which was the last Grand Lake area softball team left in the postseason, bows out of tournament play with a record of 21-6 while Newton (24-5) advances to Saturday's regional final against Williamsburg.
"I have nothing to complain about because these girls gave great effort like they always do and they had a great season. Just too bad it had to come to an end," said St. Henry head coach Josh Link, who helped guide the Redskins to a Midwest Athletic Conference co-championship along with sectional and district titles.
Following a 1 1/2-hour delay to the start of the game by lightning and rain, Newton immediately put pressure on the St. Henry defense.
Newton stranded seven runners on base in the first three innings as St. Henry pitcher and Midwest Athletic Conference Player of the Year Michelle Stout was able to make key pitches when it counted. The Indians finally dented the scoreboard in the fourth inning, while getting a little help from the Redskins' defense.
Andee Welbaum got the Newton rally started in the fourth with a one-out infield single after Stout fell on her backside while fielding the groundball. A single by Marina Snipes and a Stout wild pitch put Newton runners on second and third before a St. Henry error on a routine groundball to second base allowed the first run of the game to score.
Lacey Jackson, the Cross County Conference Player of the Year, then delivered the big hit of the inning when she ripped a two-run single to centerfield to put Newton on top 3-0.
"We were hitting the ball okay in the first three innings and had nothing to show for it, but we finally were able to get on the scoreboard in the fourth inning," said Newton head coach Kirk Kadel.
"We had a couple of defensive breakdowns in the fourth inning and they capitalized on them," said Link. "They left some runners on base in the first three innings and we made plays to get out of those innings, but we didn't get it done in the fourth inning."
Three runs were plenty of support for Newton's Burden, who managed to contain the St. Henry offense despite being just a freshman.
"We struggled a little on offense tonight and she (Burden) is a good pitcher," said Link. "Her changeup kind of froze us at times and we didn't attack it like we wanted to. She hit her spots and she got some good defense behind her."
Burden allowed just two St. Henry hits through the first five innings before the Redskins tallied their only run in the sixth inning. Kenzie Bruggeman led off the inning with a bunt single and moved to second base on a fielder's choice by Olivia Hart before Stout drove in Bruggeman with a line-drive single to rightfield.
The Redskins managed just five hits in the game with Hart contributing a single and double.
Jackson and Brooke Knepper each had two hits to lead Newton's eight-hit attack.