Tuesday, August 17th, 2010
Riverboat show docks at fair
By Shelley Grieshop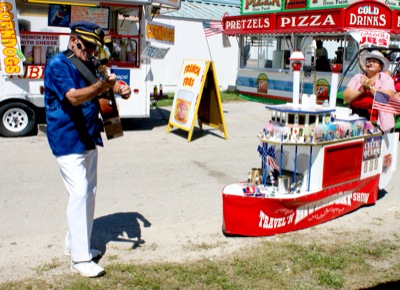 CELINA - Sailing down the midway - between funnel cake and corn dog stands - is an unexpected 6-foot-long riverboat on wheels with two colorful captains.
John and Karen Anderson are entertaining young and old at the Mercer County Fair this week with their Travel 'N Riverboat Show.
"This is sort of a PA system on wheels," said John Anderson, with a charming accent from his native Ireland.
The Andersons, entertainers from the Port Huron, Mich., area, are making their debut at the fair. They will be strolling the fairgrounds today and Wednesday.
The husband and wife team began performing together nine years ago.
"I wouldn't call this work," John said laughing. "Technically, we're retired."
John is a professional musician and singer; Karen operates the handcrafted, wooden boat and its sound system, performs magic and makes balloon animals. Between songs, they interact with their audience and the many vendors at the fair.
"We do more of an improv thing; we become part of the fair," John said. "The boat creates an atmosphere that really works for us."
John plays guitar, trombone, trumpet ... "everything but the saxophone," his wife quickly noted. In his earlier years, the 74-year-old played the big band scene but comfortably dives into nearly any type of music.
While performing in front of the Celina VFW food stand on Monday afternoon, John eases into a Willie Nelson favorite, "Always On My Mind." Minutes later his audience is grinning as he leads them into one of his personal favorites, "When Irish Eyes Are Smiling."
It's usually the Dixieland music that really gets everyone's attention, particularly the children, said Karen, who worked for 15 years in the child entertainment industry.
"It's like a kid magnet," she added.
The couple soon make their way to the Unity Grange where a dozen or so patrons have found shade and a bite to eat. As John begins a mellow rendition of "King of the Road," finger-snapping becomes contagious. Cooks and servers are lured outside by the commotion and quickly join in the chorus.
The Andersons' schedule keeps them on the road most months of the year.
After their final show Wednesday, they will load up their RV and set their GPS for the next destination on their calendar - a wine festival in Indiana.
They begin their travelin' season by May each year and return in October. They perform at fairs, trade shows, jazz and blues festivals - just about any kind of event where lively music and crowd interaction is warranted.
The duo spends a few weeks in Florida during the frigid months of January and February before their entertainment schedule kicks in.
What's the best part of their gig? The lifestyle they've grown to love, they agreed.
"We were just talking about that this morning as we sat outside eating breakfast in this lovely weather," John said. "What could be better?"

Highlights:

Today - Nursing Home Day
• 6 p.m. open swine show/men, women, pee wee showmanship, Coldwater Young Farmers Arena (CYFA)
• 6 p.m. rabbit showmanship, Adrian DeBrosse Arena (ADA)
• 6 p.m. - My Scrapbook Paradise, craft projects for kids, entertainment tent (ET)
• 7 p.m. - doubles horseshoe tournament
• 7 p.m. - harness racing, grandstand (GS)
• 7-11 p.m. - Steppin' Out DJ, beer garden (BG)

Wednesday - Kid's Day/DARE Day
• 8 a.m. - gates open, admission charged
• 10 a.m. - Kiddie Pedal Tractor Pull, front of GS
• 10 a.m. - contesting show for horses, outdoor arena
• noon - showman of showmen (ADA)
• 12:30 p.m. - treasure hunt (CYFA)
• 1 p.m. - rides and games open
• 1:30 p.m. - color contest (ET)
• 3 and 7 p.m. - Thaddeus Rex (ET)
• 5:30 p.m. - Diaper Derby (ET)
• 6 p.m. - open steer, heifer, feeder calves show (ADA)
• 6:30 p.m. - dress-up rabbit show
• 6:30 p.m. - Barnyard Olympics (ADA)
• 7 p.m. - high school marching band show (GS)
• 8 p.m. - auction of Bear Hollow Wood Carvers' masterpieces (BG)
• 7-11 p.m. - Steppin' Out DJ (BG)
The Travel 'N Riverboat Show will be strolling the grounds both days.