Tuesday, August 17th, 2010
Cover crop walk set at wildlife area
"Brother Nick's machine" will be demonstrated at Aug. 24 event
By Nancy Allen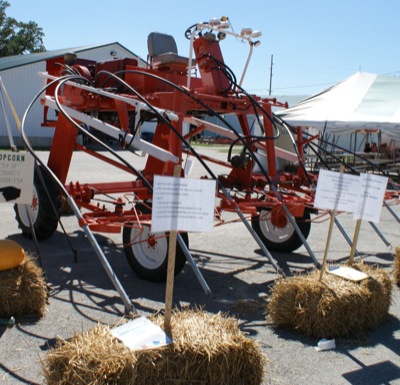 A one-of-a-kind cover crop seeder/corn detassler built by a local man will be demonstrated during a cover crop walk Aug. 24 at the Mercer Wildlife Area.
Brother Nick Renner, a grain farmer and member of the Mercer County Soil and Water Conservation District board, bought a 1970 corn detassler in Illinois in January and attached an air seeder to it.
Called "Brother Nick's machine" by people who have seen or heard about it, the self-propelled unit simultaneously plants winter cover crop seeds and detassles the top 21/2 feet of corn.
Renner used it for the first time three weeks ago to plant some cereal rye grass in an acre of corn at the wildlife area. Whether the machine will work for growing cover crops has yet to be seen.
"This is all an experiment at this point," Renner said Monday. "If this concept works, I got a newer and better version all laid out in my head."
Renner worked evenings and afternoons to create the planter. He started in January and finished three weeks ago.
"I used a lot of fabrication to get it there, a lot of cutting and welding," he said. "I had to use my imagination a little bit."
Renner said as the machine operates, the chopped corn residue falls to the ground to give the cover crop seeds a bed under which to sprout and germinate. The residue also holds in moisture and protects the growing cover crop in the same way that spreading straw on top of planted grass seed does.
Renner said Jim Hoorman, Mercer County OSU Extension educator and a cover crop expert, inspired him to create the machine. Hoorman was brought to the county a year ago to help livestock farmers better manage their manure. One tool is planting winter cover crops, which lessens runoff of soil and nutrients. Cover crops also give farmers a place upon which to spread their manure instead of on bare ground.
Hoorman said if Renner's machine works it will have several advantages. Interseeding cover crops into growing corn allows the ears to dry down faster and detassling the corn makes the stalks shorter and less apt to blow down, Hoorman said.
Planting in this manner also gets the cover crop in the ground four to six weeks sooner.
"If you wait until after corn harvest (late October/November), it doesn't allow much time for the cover crop to grow," Hoorman said.
Though there are similar machines in existence this will be the first time one is tried here, Hoorman said.
Renner plans to begin experiments soon by using his machine on 30 to 40 acres of land owned by St. Charles Center. Those plantings likely will begin next month, he said.
"Brother Nick's machine" has generated a lot of buzz in and outside the county.
About a dozen individuals and agribusinesses already want to use it, and a group of 40 farmers from Canada who visited the county in July also are interested in the device, Hoorman said. That's because their growing season is much shorter and the planter would buy them extra time to plant cover crops before the weather turns too cold.
Renner said he plans to take the machine to ag shows in Van Wert and Putnam counties and in Portland, Ind.
"The thinking this past year has all changed so much on how we look at the earth, especially with the problems with the lake," Renner said. "There's a whole new consciousness."

How to go:
What: Free cover crop walk (no registration required)
When: Aug. 24
Where: Mercer Wildlife Area, state Route 703 east of U.S. 127.
Schedule: 4 p.m., walk begins; 5 p.m., break for supper on their own; 6 p.m., Fairfield County farmer Dave Brandt will discuss how to set up a planting drill to sow oil seed radish and other winter cover crops; and 7 p.m., Jim Hoorman, Mercer County OSU Extension educator and a cover crop expert, will take participants on a guided tour of 14 different types of cover crop plantings.
Special note: A one-of-a kind cover crop planter/corn detassler will be demonstrated. The machine currently is on display near the agriculture tent at the Mercer County Fair.
For more info: Call Laura Walker at 419-586-3289 or Jim Hoorman at 419-586-2179.