Saturday, September 18th, 2010
Heroin Highway
Usage of deadly narcotic surges locally; overdoses on the rise
By Margie Wuebker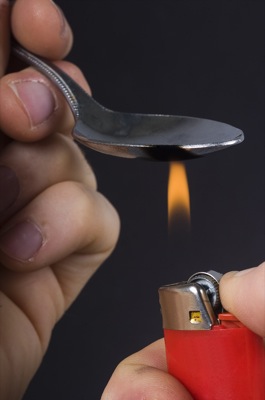 Heroin, the popular injectable narcotic of the 1960s and '70s, has become a favorite among drug users in the Grand Lake area, law enforcement officials say.
Celina Police Chief Dave Slusser said his officers handled three overdoses the night of Aug. 28 - two of them involving heroin. One of the victims - a man in his 50s - died.
Just two weeks later, Mercer County Sheriff's deputies were called to investigate the death of a 19-year-old Celina man. The suspected cause of death: heroin overdose. The case is still under investigation.
Members of the Grand Lake Drug Task Force, a collaborative effort involving law enforcement officers in Mercer and Auglaize counties, began noticing heroin use about three years ago.
Authorities often refer to a stretch of Interstate 75 between Toledo and Dayton as "Heroin Highway." The distribution zone encompasses Greene, Preble, Darke, Mercer, Auglaize, Miami, Butler and Hamilton counties, according to Dennis MeHall, unit supervisor for the National Drug Intelligence Center.
Small shipments come to the area via private vehicles once or twice a week, according to law enforcement officials. The transactions take place at designated locations throughout the Dayton area or on street corners.
A capsule of heroin - 0.1 to 0.15 grams - sells for $10 to $15 in the Gem City, according to Dayton police. That same capsule is sold in the outlying areas for $25 to $50.
A recent increase in daytime burglaries and other breaking and enterings have officials suspecting users are in need of money to feed their addiction. Shoplifting items and then returning them to stores is another method to get some quick cash.
"We have found shopping lists of targeted items leading stores like Walmart and Chief to beef up their security," Slusser said.
Sometimes one bad habit leads to another.
"We know of one man who sells marijuana in order to support his heroin habit," Mercer County Sheriff Jeff Grey said. "He doesn't use marijuana, but it's his ticket to harder stuff."
As the demand for heroin continues to increase, law enforcement fears crimes will become more violent. They expect to see home invasions, "strong-arm" robberies and car jackings to increase.
Heroin is especially popular with teenagers and young adults who open the capsules and then snort the contents. Others prefer to get a rush via a hypodermic needle. Unfortunately, many users are unaware of varying strengths and health repercussions that could lead to death.
"The victims range from kids fresh out of school to people in their 50s who should know better," Slusser said. "Most have no idea regarding the strength of what they are taking ... some is extremely potent while some has been cut repeatedly."
Heroin is a synthetic opiate that is highly addictive, according to the National Institute on Drug Abuse. It is made from morphine, a naturally occurring substance extracted from the seed pod of the Asian opium poppy plant.
Short-term effects include a "rush," depressed respiration, clouded mental functioning, nausea and vomiting, suppression of pain and spontaneous abortion. Long-term effects may include addiction, infectious diseases such as HIV/AIDS and hepatitis B and C, collapsed veins, bacterial infections, abscesses, infection of the heart lining and/or valves and arthritis and other rheumatologic problems.
"We're seeing the popularity mushroom on the street and consequently we wind up dealing with addiction here at the jail," Grey said recently. "Roughly 18 to 22 percent of the inmate population goes through heroin withdrawal in the days following booking.
"Jail inmates who have gone through withdrawal do well here with counseling and other services," he added. "But many go back to their old ways upon release given the drug's addictive nature. One man told me he craves heroin like food, water and oxygen and it affects a lot more than one or two people in some families."
Not all the drug deaths occurring here in Mercer County stem from heroin. A Chickasaw man is serving a 24-year prison sentence in the wake of a 2008 traffic accident that claimed the lives of four Marion Township men. He reportedly drank alcohol and used cocaine as well as marijuana in the hours leading up to the crash. His supplier also is in prison.
"A trafficker bears responsibility in drug cases" Grey said. "Why should a trafficker get off without any penalty when some victims end up paying the ultimate price?"
Officials encourage residents to contact law enforcement when they suspect drug activity.
"Jeff and I sat down last week to talk about getting drugs - and heroin in particular - off the street," Slusser said. "The very next morning we got a call about another death that is likely linked to heroin. We have a problem and it's getting out of hand."