Saturday, September 18th, 2010
Celina snaps 11-game skid to rival St. Marys
Freshman kicks game-winning PAT in OT
By Ryan Hines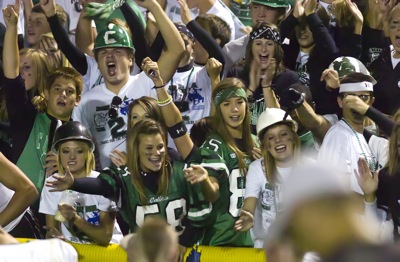 ST. MARYS - Dramatic endings are nothing new in the annual Battle of Grand Lake, but Friday's matchup featuring Celina at St. Marys will be remembered as one of the all-time great finishes in the 92-game history of the football rivalry.
Celina ended an 11-game losing streak to St. Marys when Braelen Bader kicked a PAT in overtime to lift the Bulldogs to a 26-25 victory over the Roughriders in Western Buckeye League action at Skip Baughman Stadium.
There were enough twists and turns in this game that it would make for a perfect Hollywood movie, and it was Celina that got the chance to celebrate an end to a memorable Friday night.
"This is a win that our team and our community have been waiting a long time for and it just feels great to be able to finally break the 11-year streak," said Celina head coach Jared Rolfes. "We still aren't where we want to be by any means, but it's another step and another win that we can build on."
The disappointment was clearly visible on the face of St. Marys head coach Mark Hollars.
"Right now, I just hurt for our kids. We played football the right way and the effort was there, so was the execution, it's just tough to lose this game," said Hollars. "It's a game that means so much to the kids and the community and to come out on the short end of it is just tough. It was a great high school football game where both teams gave all they could."
Celina (3-1), which was 1-9 last season, is now in a first-place tie with Ottawa-Glandorf (4-0) atop the WBL standings with perfect 3-0 league marks.
It's far too early to start predicting how the league race will end up, but the Bulldogs have plenty of reason to celebrate the strong start.
"I can't even say how great this feels right now. The team played great. We had some bumps here and there, but we stuck together and just kept playing hard," said Celina senior Kahl Knapke, who helped spearhead the Bulldogs' offense with 13 catches for 137 yards and two touchdowns."
It was Knapke that helped set up the game-winnng Bader PAT kick.
St. Marys (1-3, 0-3 WBL) broke the 19-19 tie on the first play of overtime with a 20-yard T.J. Powell sprint to the end zone, but Celina struck quickly as well.
Following an incomplete pass, Celina quarterback Braden Billger rolled to his right and was getting pressure from the St. Marys defense before firing a rocket to Knapke. It looked like Knapke was going to be held to a 10-yard gain and a first down, but the explosive senior wideout weaved his way through the St. Marys defense while running to the opposite side of the field for a 20-yard touchdown.
"That was a great throw by Braden. There was nothing there, but he just hung with the play and delivered a strike to Kahl and Kahl just does what he does when he gets the ball in his hands," said Rolfes. "We try to get Kahl the ball because he makes things happen when he has the ball and he showed it on that play."
"Braden did a great job of finding me on that play and then I just tried to follow my blockers and find a way into the end zone," said Knapke, who has caught at least one touchdown in every game this season. "I really wasn't expecting the ball because I thought they (St. Marys) had me covered but it was just a great throw. What a great win in a great game."
Billger was efficient in completing 26-of-40 passes for 275 yards and two touchdowns. Billger has thrown for two touchdowns in each of his first four varsity starts as the Bulldogs' sophomore quarterback.
Andy Sutter gave the Bulldogs a consistent running threat as he carried the ball 20 times for 90 yards and a touchdown early in the fourth quarter. Sutter's one-yard plunge into the end zone put Celina on top 19-13 at the 11:46 mark, but St. Marys responded right away when Dustin Fisher ripped off a 49-yard touchdown run to knot the game at 19-19. The Roughriders had a chance to go on top by one point with a made PAT kick, but Jarrett Taylor's kick was blocked by Knapke, who dove and got his hand on the potential go-ahead kick.
"Another great play by Kahl," said Rolfes. "He's just a great athlete and a great football player that made a great play. I can't say enough about what he brings to the table for us."
Celina had two chances to win the game in regulation but were unable to cash in on the opportunities.
Bader missed a 35-yard field goal with 5:12 remaining in the game and then Sutter mishandled a pitch on a sweep play at the one-yard line and St. Marys recovered the fumble with 2:27 on the clock in the fourth quarter.
The heartbreaking loss overshadowed a strong offensive performance by the Roughriders, who had two rushers eclipse the 100-yard plateau. Fisher led all rushers in the game with 166 yards on 19 carries while Powell sprinted for 115 yards on 12 carries. St. Marys' Derek Roop also threw the first touchdown pass of the year for the Roughriders, a 14-yard strike to Powell.
Celina, which has now won three straight games for the first time since 2000, will try to make it four in a row when the Bulldogs host Van Wert next Friday. St. Marys will look to snap a three-game losing streak next week on the road against winless Defiance.