Monday, November 1st, 2010
Celina tops Eastwoood in five for fifth straight district crown
Division II District Volleyball at Liberty-Benton
By Gary R. Rasberry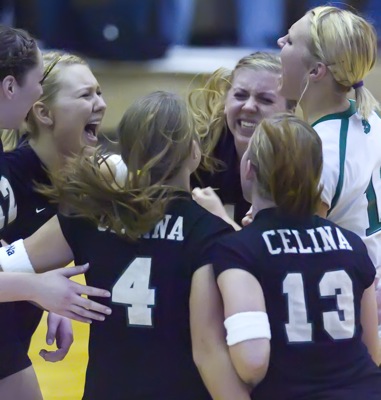 BENTON RIDGE - Celina was pushed to the limit by Eastwood before the Bulldogs came away with a Division II district championship for the fifth straight year in a five-set marathon on Saturday.
The Bulldogs (21-5) head to Ontario High School on Wednesday for a 6 p.m. regional semifinal matchup with Mayfield District winner Parma Padua Franciscan (17-7). The other semifinal will feature Madison Comprehensive against Wooster Triway, with the winners facing off Saturday at 2 p.m. Eastwood ends its season at 21-5.
All five sets were close, with the largest margin of victory being six points.
"Eastwood is a nice team. I knew we would have a very good match today," said Celina coach Carolyn Dammyer. "It came down to who would make the least (number of) mistakes and who would fight the hardest. My girls never gave up."
The first two sets were decided by extra points. In the opener, the Eagles, buoyed by their hitting duo of Whitney Hoodlebrink and Courtney Rolf, took control. Hoodlebrink had nine kills with Rolf adding five as Eastwood took the opener 26-24.
The Eagles looked prime to take the second set in quick fashion, up 17-12 before Celina began to close the gap. Solid service runs by Angie Fisher and Anna Stammen helped Celina get back in the game and take a 23-21 lead. Celina got the serve back and was at set point at 24-23 before a hitting error tied things up. Hoodlebrink got a kill on the ensuing serve to make it 25-24, but put the set-point serve into the net to tie things at 25-all. At 26-all, Jordan Gionvanucci's serve went deep to give Celina set point; and Lizz Carr got the winning kills as the Bulldogs picked up a 28-26 win to square the match.
"It was definitely a huge turning point," said senior hitter Erin Dorsten. "After the first game, it was like the bad stuff was behind us. We turned it around and played our game."
"I honestly sit here and feel like we should have won game two," said Eagles coach Jeff Beck. "But, you know what? Celina will say they earned game two, and they did. They won that second game. That really did, I think, deflate the sails a little bit."
The momentum swung to the Bulldogs in the third set as Dorsten put together a big serve run that turned a close 18-17 Celina lead into a 22-17 advantage thanks to two Dorsten aces and kills from Carr and Weininger. Eastwood managed just two more points before Carr got another set-winning kill to make it 25-19.
Eastwood, though, would not concede. Hoodlebrink dueled with Dorsten spike for spike in the fourth set. Hoodlebrink had nine kills in the set, including three of the final five points for Eastwood to send the match to a fifth set with a 25-22 win.
Celina, however, left no doubt it was in control in the clincher, jumping out to a 6-1 lead as the hitting trio of Dorsten, Carr and Weininger combined for seven kills in the 15-10 finale.
"It was awesome, that's why we pulled ahead so much," said Dorsten. "We knew it was a short game (to 15) and we had to go and push our hardest our last game to win it. ... The only thing in my head was 'Why didn't we do this in the fourth game.' "
"I told the girls all week long that (Eastwood) would be a team that would battle for every point and never give up," said Dammeyer. "Even when they were in a hole in the fifth game, they battled. My girls never quit. I'm proud of them."
Hoodlebrink put together a tremendous game in the loss, getting 32 kills and 24 digs on the night. Rolf added 16 kills, but had just six in the final three sets.
"As a blocker, it was really tough because they would hit around us," said Dorsten. "Wherever they saw the block, they would hit the opposite direction. We just needed to communicate with our front row and back row to say 'I'm blocking this way, so cover this line.' It was tough, but we pulled through."
Celina had balance on its hitting. Dorsten had 17 kills with Weininger and Carr finishing with 15 and 13 kills. Beck was impressed with the Bulldogs' attack.
"I'll be honest with you, they run an offense we don't see in our league (Suburban Lakes League)," said Beck. "That was part of a huge challenge we faced. They run a lot of crosses, slides and vees in the middle. Our blockers did amazing for something they don't see that much in the SLL. I think we stepped up to the plate. They run a very good system."
Tickets - Tickets for regional semifinal at Ontario will be sold Tuesday and Wednesday from 7:30 a.m. to 2:45 p.m. in the high school athletic office. Tickets are $6 presale and $8 at the door. Celina receives a percentage of the presale.