Wednesday, December 29th, 2010
Deputies on the hunt
Mercer County Sheriff's Office pushing to locate people wanted by local courts
By Margie Wuebker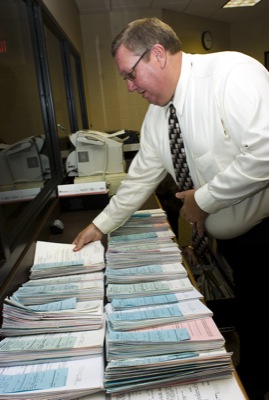 The long arm of the law is reaching across the country as the Mercer County Sheriff's Office works to dwindle its 600 outstanding arrest warrants.
On Oct. 1, the sheriff's office enhanced its website (www.mercercountysheriff.com) with an active warrant search tab listing all outstanding warrants as well as served grand jury indictments. Technology coordinator Kory Hoffhines developed the site, which drew 178 hits the first three days.
The site also contains a form for people to submit anonymous tips regarding the whereabouts of those wanted.
Some 100 tips have led to the arrest of 22 people. A 20-minute turnaround between submission of a tip and arrest has been the quickest response, Sheriff Jeff Grey said. Holders are in place for six people incarcerated elsewhere. They will be held for pickup upon completion of their current stays.
Some 515 people remain on the list, with Grey explaining new names are added as warrants are filed through the court system.
The majority of those sought have warrants for misdemeanors such as traffic offenses, failure to report to jail as part of municipal court sentences and failure to pay fines and court costs.
Deputies only travel out of state to make an outstanding warrant arrest if it is for a felony offense, Grey said.
"We are going after people who committed felonies here and then moved away," he said.
Deputies arrested former county resident Daniel L. Young of Kings Mountain, Ky., after receiving a tip from an anonymous source who spotted his picture on the sheriff's website. The 23-year-old faces three counts of rape and three counts of sexual battery stemming from a grand jury indictment issued in June 2008.
Wesley Kempton, 26, formerly of Pro Drive in Celina, was apprehended in Gaylord, Minn., on charges of felony theft and nonsupport of dependents. The indictments were handed down in February 2006, but his whereabouts remained unknown until an informant spotted a mugshot on the site and notified authorities.
A quick flight to Louisiana led to the return of former county resident Bonnie L. Davis on a felony theft warrant. Upon release from the local jail, she was transported to Auglaize County on a failure to pay charge in connection with an unrelated case there.
"These trips do not constitute vacations for sheriff's office employees," Grey said. "The trip to Louisiana is a prime example."
A similar arrangement was used to bring former resident Scott Campbell from Rhode Island to face charges of passing bad checks. The quick turnaround avoided additional expenses related to overnight lodging.
"We drove to Minnesota and Kentucky," Grey said. "We look at the costs involved and go the cheapest way. Flying involves a lot more planning with two officers in plainclothes carrying guns and handcuffs."
Another most wanted person they want to locate is Celina-area resident Mailek Sharp, a sex offender, who skipped out on community control sanctions in his most recent case involving attempted failure to register.
Grey pointed out the money spent returning felons to Mercer County does not come from his budget.
Grey is permitted to request from the county an amount equivalent to 25 percent of his $59,000 salary ($25,800) for pursuing fugitives. Grey requested $5,000 in pursuit funds for 2011 and $1,000 this year.
He also can request from the state and county a total amount equivalent to 50 percent of his salary for furtherance of justice, which can be used for various needs such as rewards for information or the purchase stolen items and drugs as part of undercover investigations.
"People are likely to complain on the money being spent to track people down," Grey said. "However, it costs considerable money to investigate and prosecute cases. Culprits need to be held accountable."
The sheriff's office has been plagued with a backlog of arrest warrants dating back to when accommodations were at a premium in the former jail. The new detention facility has more than 100 beds.
"People who skipped out knowing about space limitations have a new lesson to learn," he said. "If they committed a crime, they will face the music."