Wednesday, December 29th, 2010
St. Henry honors Stoner for coaching achievements
By Robb Hemmelgarn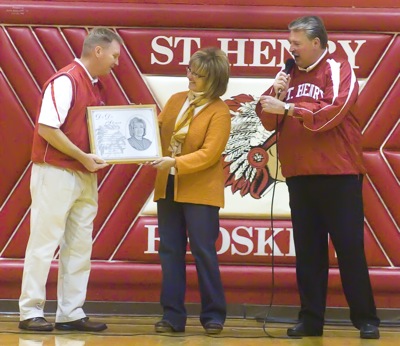 For several moments between the junior varsity and varsity basketball contests at the St. Henry Middle School Gymnasium last night, former Redskins' volleyball coach DeDe Stoner was in the center of the spotlight.
Although she admits that she tries to shun the individual attention, she didn't have much of a choice last night, as she was honored for her accomplishments of guiding the St. Henry volleyball program for 20 years.
"Even though I absolutely hate getting attention focused on myself, it is truly an honor to receive this recognition," said Stoner, who was presented with a plaque highlighting her achievements which will be affixed outside of the east entrance to the gymnasium. "To be remembered for the time I served here with a plaque is something very special to me. Fran Guilbault has the other one outside of the gym and it means so much to be held in the same regard. He was an outstanding coach and someone I really looked up to when I was here."
Recently graduated from Ohio University, Stoner returned to Mercer County in the mid-1970s, prepared to embark on the rest of her life. Her initial line of employment was at First National Bank in Celina, where it didn't take long for her to thirst for something more competitive.
Before getting too established in the daily banking grind, she unexpectedly received a telephone call from her former superintendent at Mendon-Union High School, who pointed her toward an opportunity in St. Henry. Within a few days she submitted an application, met with then-principal Art Brophy, and shortly thereafter was hired as a physical education teacher, as well as St. Henry's second-ever volleyball coach.
"That time was similar to how it is today, and there were just not that many teaching positions to be had," she explained. "Barb Desch was the volleyball coach at St. Henry and she was pregnant and stopped coaching, so I took over. Along with coaching and teaching, I was also in charge of almost every club available for girls, so I really got to know all of them and develop great relationships."
After igniting her coaching career in the fall of 1976, Stoner morphed St. Henry volleyball into one of the premier programs in Ohio history. Through 20 seasons in command, she accumulated 440 wins, five state championships, and an amazing 14 Midwest Athletic Conference titles.
"From the start, St. Henry was obviously an outstanding fit for me," she observed. "I have a very competitive attitude and cannot stand losing. Whether it is tiddlywinks or volleyball, I don't take getting beat very well, and that was exactly how the parents and fans in St. Henry were. We won games early in my career, and over the years the confidence built in both me and my players, so winning became an expectation not just something we hoped for."
Stoner further pointed out, "I was always surrounded by girls who wanted to play volleyball, even if they knew they wouldn't get a lot of playing time. The biggest difference between coaching back then and what coaches face today is that parents seem to know a lot more about the game. When I coached, volleyball was new to the people in the stands and everyone just expected coaches to do the right thing. Now, there are so many more people who have played and followed the game and want to give their input. This can be difficult for a coach, and thankfully it wasn't something I had to deal with."
Following back-to-back Division IV state titles in 1994 and 1995, and in what was seemingly the prime of her coaching career, Stoner decided to step aside in order to dedicate more time to watching her daughters play volleyball at Celina.
"I have no regrets about retiring from coaching at the time I did - my kids were getting older and more active, and there came a point when I had to make a decision on where my focus needed to be," commented Stoner, who also retired from teaching at St. Henry following last school year.
Stoner admits that her success was an exceptional blend of hard-working girls and an outstanding community, two components which showered her with attention and applause one final time last evening.
Whether she enjoyed it or not.