Saturday, March 19th, 2011
Feels different, reads the same
Schools, libraries adapting to various electronic devices
By William Kincaid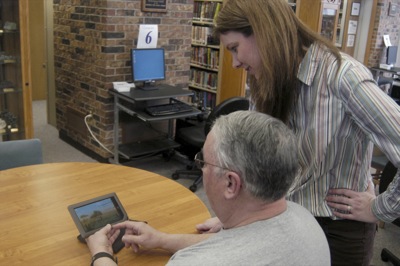 CELINA - Technology is changing the way people consume books and other media.
Downloads of digital books - both e-books and audiobooks - have increased from about 20 a month to as much as 150 a month at the Mercer County Library in the last few years, librarian Elizabeth Muether said.
"They have become popular," she said, adding that digital books and other material can be downloaded by all patrons of the county library and its branches.
The county library experienced a boom of downloads after Christmas, when may people received e-readers as gifts.
The same holds true for the St. Marys Community Public Library, where librarian Jay Miley said downloads have increased from 4 to 60 a month in the last few years.
He also noticed a spike after Christmas.
"It's usually adults - I haven't seen a kid with one," he said.
Millions of Kindles, Nooks and iPads have been sold and are changing the publishing marketplace. E-book sales in January surpassed purchases of hardcovers and mass market paperbacks, according to a new survey. The Association of American Publishers reported on Thursday that e-sales more than doubled from $32.4 million in January 2010 to $69.9 million in January 2011.
"They're already commonplace," St. Marys librarian Mary Jo Stilwell said about e-books.
Joe Miller, 65, of Celina, had been downloading digital books to his computer and audiobooks to his mp3 player for several years before he received a color Nook from Muether, his daughter.
The Nook is convenient, portable and, unlike the Kindle, able to download media from multiple sources, Miller said.
"It gives me a lot more accessibility because I can carry it around," he said.
Miller, a life-long avid reader with a background in electronics and science, obtains his books from a combination of sources: free downloads from the library and public domain sites and purchases from Barns and Noble.
In addition to the hundreds of traditional books in his home library, Miller now has such digital offerings as the Bible, Curious George, stories for his grandchildren and 50 classic novels - including titles by Steinbeck, Fitzgerald and Verne - he bought online from Barnes and Noble.
Miller often shares his Nook with his grandchildren. His 3-year-old granddaughter can open books and change the pages.
"I have to fight with her to get it back," he said.
Miller said the Nook is basically a computer that also allows him to browse the Internet when he's near an accessible Wi-Fi hotspot.
He also has a stack of traditional books he's making his way through.
"I don't really have a preference. The e-reader is nice. You can read it in the dark," he said.
Muether said many e-book users are older adults because the font can be enlarged and offerings from the library provide a wealth of material compared to the limited, large-type print books on the shelves.
Some e-readers have other practical applications, such as Internet browsing to locate and display recipes while cooking. They are also great for vacations because one device can store hundreds of books.
Christine Wilson, an English instructor at Wright State University Lake Campus, said only two of her students own a Kindle, but she hasn't seen them use the device in class.
However, she recently received an email from a student asking if he could use the Kindle version of a required text in her English 102 class. Wilson approved the request.
"I, on the other hand, couldn't live without my Kindle and want to get an iPad too," she said. "From my perspective, I'd like to see more students with (e-readers) because it would indicate that they're reading for pleasure."
Wilson said she still loves "real" books but consumes them at a rapid rate.
"The Kindle allows me to get books quickly, have access to them no matter where I go, and as a bonus, electronic books don't take up much space," she said.
She said she likes physical books, but likes reading even more.
"To me, the Kindle and iPad make reading easier," she said.
Fort Recovery High School English teacher Ed Snyder said he hasn't seen e-readers around the high school yet but predicts changes in the future.
"We are planning on starting a one-on-one laptop initiative with our ninth-graders next year, and I am sure that the future holds more of our assigned texts being done electronically," he said. "As this initiative progresses, I am sure that teaching in the classroom will change."
Snyder said he believes reading is good for students and he has no problem with Kindles.
"Research shows that reading not only increases a student's general knowledge, but that it also leads to better writing," he said. "These skills are very important ones for our students."
- The Associated Press Contributed to this story.

• Patrons of the Mercer County Public Library and the St. Marys Community Public Library can download e-books and audiobooks to their computer, cell phone, mp3 player and e-reader for free.
• Both library websites have links to the SEO Library Consortium Digital Catalog - a statewide online depository of e-books and audiobooks, as well as music and videos.
• Readers can select a maximum of 10 downloaded books at a time.
• If books are unavailable due to maximum checkouts, patrons can click a waiting list button to place a hold on a book.
• Books can be checked out for as long as 21 days.