Saturday, March 19th, 2011
Fort Recovery's run halted by Anna
Division III Girls Basketball State Semifinal
By Gary R. Rasberry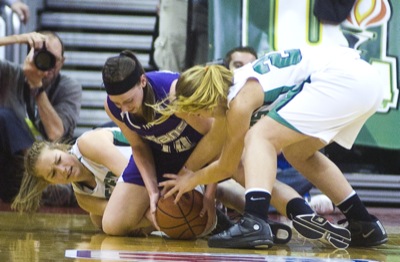 COLUMBUS - Fort Recovery's quest for its first state championship in 20 years came to an end on Friday in the Division III state semifinals.
Anna hit all the timely shots and forced the Indians into many mistakes as the Rockets advanced to the Division III girls basketball state championship game with a 57-40 win over the Indians at the Schottenstein Center on the campus of The Ohio State University.
The Rockets (26-1) will face undefeated Oak Hill in the state title game today at 5:15 p.m. The Lady Oaks (25-0) beat Elyria Catholic 53-49 in the other D-III semifinal matchup.
Fort Recovery, making its first trip to state since 1991, ends the year at 23-3 after having its 13-game winning streak snapped.
"We've had a great year," said Fort Recovery's coach Doug Bihn. "I can't thank my senior class enough for getting us across the hump and getting to this point in the season. We're pretty disappointed, but at the same time, there's 196 teams that didn't get a chance to come here today. We're one of four that did."
"The game was like we thought it would be," said Anna's coach Jack Billing. "Very physical, hard-played... it was up and down. Both teams put pressure on. You have to give Fort Recovery credit. They banged us around. We thought we were missing a lot of shots at halftime, but that's the way Fort Recovery plays defense."
The start of the game gave the impression it was going to be a low-scoring affair. Fullcourt pressure defense by both teams created some sloppy play. The teams combined for 35 turnovers in the first half and finished with a total of 51. Fort Recovery committed 28 turnovers.
"Right away, they would trap me and it was hard to see the floor," said Indians' senior point guard Nicole Dilworth. "So I had a couple turnovers off that."
"I think the first quarter was pretty hectic for us," said senior forward Holly Brunswick.
The score was knotted up at 2-all approaching the halfway mark of the first quarter. The Indians made the first run of the game as Kendra Brunswick nailed a three-pointer and Kelly Nietfeld got a layup that quickly pushed the Indians in front 7-2. Anna slowly clawed its way back into the game, tying it at 10-all on an Erica Huber free throw going into the second quarter.
The Indians made another run to jump out to an 18-12 lead. Kylie Kahlig came off the bench to score six straight points, but fouls were beginning to pile up. Holly Brunswick, the Tribe's leading scorer, sat out most of the first half after two first-quarter fouls and Anna began to spend a lot of time at the free-throw line.
After cutting the Indians' lead to 18-16, Anna got the ball back on a turnover and Carrie Watkins put the Rockets into the lead at 19-18 with a three-pointer at the 3:38 mark. Huber drilled a trey with two seconds left in the half to give Anna a 26-22 lead.
"I have to brag up Erica a bit," said Billing. "She hit that three to spark us going into the half."
"When you take, obviously, our best player out of the lineup, it hampers us," said Bihn of Holly Brunswick's foul trouble. "We weren't able to do a lot of the things we wanted to do offensively and defensively because of that issue."
The trey to end the first half sparked the Rockets in the second half as Fort Recovery got no closer than three points the rest of the way. After shooting just 36 percent (9-of-25) in the first two quarters the Indians were a chilly 7-of-24 from the field in the second half. Fort Recovery, which hit 9-of-20 from behind the three-point line last week against Africentric, was just 2-of-17 with the Brunswick sisters combining to go 1-of-10.
"We didn't get a whole lot of good looks, honestly," said Bihn. "We forced some shots we shouldn't have taken. Anna pressured us, and they forced us to run our offense a little faster than we're used to running it. They're a pretty quick team."
"We figured going into the game they would take 20 threes," said Billing. "We had a tandem defense we were going to run. We worked on it all week and didn't use it once. We said if they'd hit 2-3-4 in a row, we'd guard their best three shooters and keep Natalie (Billing) and Megan (Fogt) in the paint. They were 2-of-17. ... We were pretty happy with that."
Anna also had some struggles shooting, hitting just 37 percent (17-of-46) from the floor in the game. Megan Fogt, the Shelby County Player of the Year, was just 4-of-12 from the field.
"It was definitely frustrating," said Fogt. "I did a lot of that last year - missing bunnies and rebounding my own shots. ... Fort Recovery is a good team."
Watkins led all players with 16 points. Fogt had a double-double with 14 points and 14 rebounds.
Kahlig led Fort Recovery with 13 points off the bench.
"All year, we've known Kylie is a great player," said Bihn. "We've been expecting big things all season from Kylie. ... Kylie has the capability to take a game over."
Holly Brunswick added eight points before fouling out midway through the fourth quarter. Kendra Brunswick added seven points.
WELCOME HOME - Fort Recovery will hold a welcome home ceremony today at noon at Fort Site Fieldhouse.