Wednesday, March 30th, 2011
Heavier vehicles carry concerns
House bill would allow greater load limits for trucks, farming equipment on rural roads
By Shelley Grieshop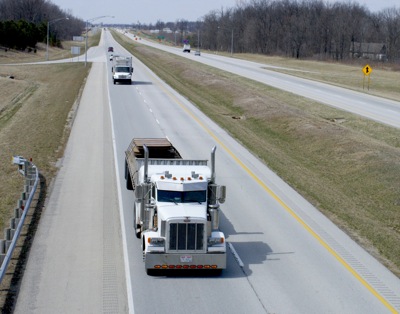 Local officials are fighting proposed state legislation that would increase weight limits by 5 percent for trucks and farm equipment.
Mercer and Auglaize county engineers say the pending changes in the state's transportation budget bill could jeopardize the safety of rural roads and bridges at a time when repair funds are scarce.
"We would see a significant amount of road damage, as well as potential safety issues with bridges and culverts," Mercer County Engineer Jim Wiechart said. "The fallout would be more cost for repair to already challenged budgets."
House Bill 114 has passed in the House and Senate and is returning to the House for reconsideration. Passage is likely sometime next week. Gov. John Kasich is expected to sign the bill into law, local officials said.
The issue has strong support from the trucking industry, according to the bill's co-sponsors. Hauling larger loads with fewer trucks can reduce transportation costs and increase efficiency.
The Ohio House initially proposed a 7.5 percent increase - or an additional 3 tons - to the current maximum load limit of 40 tons. Last week the Ohio Senate amended the House's version to a 5 percent weight increase and a separate 5 percent wheel or axle load tolerance for farm equipment and trucks that haul solid waste, timber and asphalt.
"This would have a very destructive impact on our rural local, township and county roads and bridges," Wiechart said, adding state and U.S. highways are designed to handle the impact.
No weigh stations are located in Mercer County, but the weight of trucks and other vehicles is checked by utilizing portable scales carried by commercial vehicle inspectors with the Ohio State Highway Patrol.
Inspectors often can tell if a truck is overweight just by the way the load is sitting, a trooper for the Wapakoneta post said.
Auglaize County Engineer Doug Reinhart also believes the increase in weight limits would be destructive to infrastructure.
"An increase in weight loads concerns every county engineer or anyone in charge of repairing roadways," he said. "We're struggling right now to hold our roads together."
Reinhart said damage to bridge structures from heavy vehicles could go undetected and create a dangerous scenario for all motorists. County engineers typically inspect bridges once each year unless they have concerns, he added.
Neil Tunison, Warren County's engineer, two weeks ago warned the Ohio Senate Transportation Committee of the problems that lie ahead if the maximum weight limits are increased.
"One 40-ton vehicle has the impact on roads and bridges equivalent to 10,000 cars," he told the committee. "Our experience is that extra vehicle weight will deteriorate roads sooner, causing deep rutting or excessive cracking leading to roadway base failure."
Tunison described the scenario as a "huge problem for effected residents and townships that provide much needed emergency services."
Wiechart, who is president of the County Engineers Association of Ohio, hopes the governor's been listening to their arguments and takes action before it's too late.
"The governor could remove the issue with a line-item veto," he said, but quickly added "it's not likely."