Wednesday, March 30th, 2011
Crowell's HR wins it for Parkway
By Gary R. Rasberry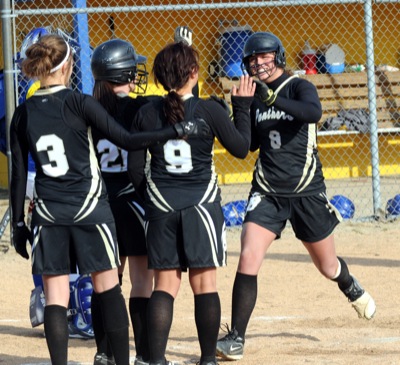 ST. MARYS - As expected, Tuesday's battle between two of the area's top softball pitchers was a dandy.
Parkway's Emily Crowell and St. Marys' Erika Thornsberry had strong days, both in the pitching circle and at the plate, but it was Crowell's Panthers getting the edge over Thornsberry's Roughriders.
Crowell's two-run home run in the top of the fifth trumped Thornsberry's solo shot as Parkway won 3-1 at K.C. Geiger Park.
Runs were at a premium as Thornsberry and Crowell shut each other's team down for the first four innings, but not without a little bit of intrigue. In the third, Olivia Smith started the top of the third for Parkway by walking. Two outs later with Smith on third, Crowell enticed another walk and went to second uncontested. Thornsberry ended the threat by striking out Megan Ketchum.
In the bottom of the third, Rachel Wale and Carrie Schlater laced back-to-back one-out singles. With Thornsberry batting, Parkway's head coach Mark Esselstein chose to send her to first on an intentional walk to load the bases. Crowell made Esselstein's plan work as she struck out Haylee Kill before Kiley Schamp grounded out to end the inning.
"We had too many innings where we took called third strikes or we chased balls out of the zone and got ourselves out instead of making them play defense," said Esselstein.
St. Marys' coach Sue Grothause concurred with Esselstein.
"We had opportunities," said Grothause. "We had runners in scoring position a couple times and didn't get it done."
The scoreless game finally broke open in the fifth. Parkway's Morgan Cron grounded to third, but the ball was dropped by Harle Smith and reached base via the one-out error. Taylor Walls followed with a sacrifice bunt to move the runner up before Crowell took a 2-1 Thornsberry offering over the left-centerfield fence to make it 2-0 in favor of Parkway. Ketchum then reached on an error and Lindsey Walls drove her home with a double to centerfield to make the score 3-0.
After the three-run burst - all unearned - Thornsberry settled down, allowing just two more baserunners to finish the game.
St. Marys got a run back in the bottom of the fifth as Thornsberry hit a solo home run to left-centerfield.
That, however, would be it for the St. Marys offense, as Crowell retired the side in the sixth and seventh to end the game.
Crowell, who went 2-for-2 at the plate, scattered six hits and struck out seven on the mound.
Thornsberry, who went 2-for-2 at the plate, finished with a three-hitter on the mound as she walked five and struck out nine.
"I'll tell you what, Thornsberry and Crowell, there are two of the premier pitchers and hitters around," said Esselstein. "I'm just glad we got a three-run cushion there."
"Emily and Erika, they both had fun tonight," said Grothause. "When Emily hit that home run and Erika came back and hit her home run, she came around third base and said 'Coach, now we're even.' They're good friends. It's nice to see the competitiveness of those two."
Parkway returns home on Thursday to face Mercer County rival Celina. St. Marys is off until Friday when Coldwater comes to K.C. Geiger Park.