Tuesday, May 24th, 2011
Stammen retiring
Longtime Coldwater village mayor says he won't seek re-election
By Betty Lawrence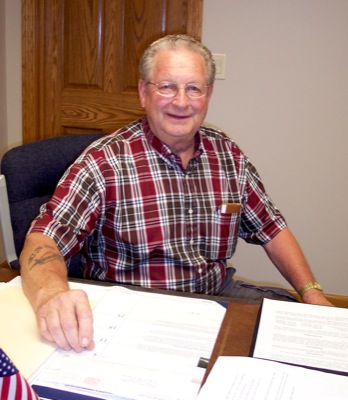 COLDWATER - Mayor Vern Stammen closed Monday's village council meeting by announcing he would not be seeking re-election in November. He then endorsed councilman Joseph Knapschaefer, who announced he would be running for the seat.
Stammen, 73, will be ending his third, four-year term as mayor in December. He will be closing out nearly 40 years of public service, which also includes 10 years as a councilman and 12 years as a school board member.
"I took a lot of time to think this over, and it was a tough decision, but it's the right time to bow out," he said.
Stammen retired from DP&L in 2000 after 35-plus years.
The deadline for nonpartisan candidates to file for the general election is Aug. 10.
Knapschaefer said he intends to gather the required signatures for candidacy by the August deadline. If elected, Knapschaefer's council seat would be filled by appointment.
Two at-large council seats also are up for election in November. Those seats are now filled by Doug Bertke and Rob Fisher.
Bertke, who is finance committee chairman, told council the estimated cost to replace the village's aging water meters and a receiving tower is $500,000. Current meter models are no longer available nor are replacement parts.
Ordinance 1587 received its first reading Monday evening. The ordinance sets the water and wastewater rates and includes a rate hike of 0.945 cent to 1 cent per gallon for those using up to 100,000 gallons. The typical residence uses 10,000 gallons per quarter, amounting to an approximate increase of $14, village manager/engineer Eric Thomas said.
Receiving first and final reading after suspending the rules was a resolution for curb and gutter work in the 300 and 400 blocks of W. Walnut Street.
Property owners in this section of the village attended a public hearing on the project with council's transportation committee last week, reported committee chairman Rob Fisher. All property owners attending the meeting agreed with the project, Fisher said.
Receiving second reading was an ordinance that increases the Coldwater Fire Department from 22 to 25 members and sets the compensation for the fire chief and assistant fire chief.
Following a brief executive session, council members passed as an emergency Ordinance 1589 that approves an annexation agreement between the village and Butler Township.
Annexed is 5.166 acres of bare land, located on the east edge of the village and owned by Randy and Karen Schwieterman and Brent and Tammy Schwieterman. The owners plan to develop the grounds.