Tuesday, May 24th, 2011
Workers make clean sweep of new street
By William Kincaid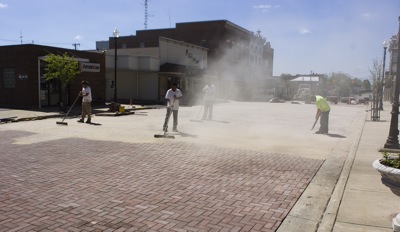 FORT RECOVERY - A new downtown brick street should be finished sometime this week, weather permitting, village administrator Randy Diller said.
Work on the $130,000 N. Wayne Street project began two weeks ago.
VTF Excavation of Celina, the same company hired to complete the village's sewer separation project, removed 16,000 square feet of bricks; subcontractor Decorative Paving of Cincinnati is installing the new bricks.
Diller said he is happy with the work so far.
Last year, council members approved the brick street work as part of the sewer separation project.
The bricks were installed nearly two decades ago as part of a project to create a historical downtown atmosphere.
Since then, some of the nearly 20-year-old bricks - placed over a concrete base and layer of sand - had shifted and pushed up over the years, while the tops of other bricks popped off due to water collecting in the cracks. Motorists also noticed a rumbling effect when their vehicles travel over the bricks.
According to Diller, a bituminous base similar to a sandy asphalt and adhesive is being installed before the bricks are laid to prevent them from moving. A polymer sand also is being placed between the pavers to help lock the bricks in place.