Tuesday, May 31st, 2011
Official: Memorial weekend a success
By Nancy Allen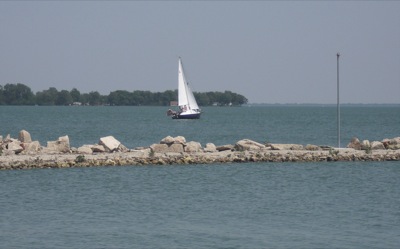 GRAND LAKE - The Memorial Day weekend on Grand Lake was a success driven by sunny skies that drew visitors to picnic sites, shelter houses and the campground, said Brian Miller, manager at the local state park.
Miller said 184 of the campground's 204 sites were occupied, a number that could have been higher if some hadn't been under water.
"We had a couple loads of straw we brought in because it was so wet," Miller said. "If it would have been drier, we would have filled (the campground)."
Miller called lake use "light" on Saturday and Sunday and "very good" on Monday.
"There was a lot of truck and trailer traffic at our ramps putting boats in," he said. "I saw people skiing, boating, jet skiing and tubing, but basically most people were just taking a boat ride."
No major incidents were reported on the lake or at the campground.
The Putt-Putt golf course and basketball courts at the campground were busy and the Sunday night outdoor movie was well attended. Miller said he noticed most people wanted to relax with their own activities.
Camping rates were cut in half by the state again this year to try to entice people back to the lake after attendance dropped due to water quality advisories. The advisories were placed by the state the last two summers due to massive blue-green algae blooms.
Miller said state park staff received some questions about the lake's water quality and the public health advisory currently on the lake, which advises against wading, swimming or swallowing the water. Boating is allowed.
"The general consensus was people hoped everyone can work together to get it corrected," Miller said.
Miller said the weekend's success was largely driven by Mother Nature.
"This is the first weekend a lot of people have been out because of the weather," he said. "Up until this weekend, it has been nonstop clouds and rain."