Tuesday, May 31st, 2011
Wonders pitches Tinora past St. Henry
By Ryan Hines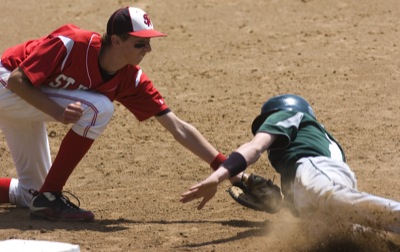 ELIDA - St. Henry's unexpected run in the Division III tournament came to a screeching halt on Saturday thanks to the left arm of Tinora's Brett Wonders.
Wonders allowed just three hits in a 6-0 shutout over St. Henry in the D-III regional semifinals at Elida's Ed Sandy Field.
It was the first regional win in school history for Tinora (25-3), which advanced to the state tournament on Monday after a 5-4 victory over Bloom-Carroll in the regional final.
Wonders, who had at least one strikeout in all seven innings, was dominant on the hill for Tinora against St. Henry (19-12) as he had 10 total strikeouts and just two walks in his complete-game gem.
"He did a nice job," said St. Henry's head coach John Dorner of Wonders. "He worked the corners well and didn't get himself in trouble. He threw first-pitch strikes. We didn't bring our hitting shoes but we have to tip our cap to the Wonders kid. He kept us off-balanced."
Wonders, who didn't allow a hit until two outs were recorded in the fourth inning, had all three of his pitches under control in improving to 9-1 this season with an ERA hovering around 0.50.
"I try to throw strikes and get on top (in the count)," explained Wonders, who throws a fastball, curveball and changeup. "I got my change across a lot and then they didn't see my fastball coming. Everything was working. I was amped up."
"I don't know that anybody has pitched better than he has all year," said Tinora's head coach Brent Renollet. "I'm not sure how he does it, but he sure does it. He just keeps them guessing."
St. Henry's top scoring opportunities came in the fifth and sixth innings when the Redskins got runners to second and third base with only one out.
In the fifth, Devin Froning reached base safely on a Tinora error before Brady Kremer hit a double to leftfield that bounced off the end of the glove of the diving Rams' outfielder. Wonders then induced a pop up on the infield off the bat of Nate Uhlenhake before Derek Rindler's flyball to centerfield ended the inning.
In the sixth, Chase Kessen singled to lead off the inning and then Kurt Koesters reached base safely on a one-out Tinora error. Wonders struck out Tyler Bruns for the second out and then Brad Heitkamp popped out on the infield to end the threat.
"That's something we had been doing throughout the tournament," said Dorner about the Redskins being able to hit with runners in scoring position. "Give them credit, they made the pitch and made the play. We just were never in the game."
An Austin Farrington RBI single gave Tinora a 1-0 lead in the second inning before a five-run outburst in the fourth frame buried St. Henry.
The Redskins' ace hurler Tyler Bruns, who didn't walk anyone in the first three innings, issued three free passes to start a Tinora rally.
A two-out Cody Nagel two-run single put Tinora on top 3-0 but the Redskins looked to be out of the inning when a Rams' baserunner tried to advance to third base on a throw to the plate. The ball beat Tinora's Farrington to third base but he apparently slid around the St. Henry tag attempt as the umpire called him safe with a disagreement from Dorner and the Redskins' faithful.
The umpire's ruling proved costly for St. Henry as Tinora's Landon Drewes hit a two-run double before teammate Alex Batt ripped an RBI single for a commanding 6-0 lead.
"That was a tough inning for us when we gave them three baserunners on walks. We gave up five runs on just three hits," said Dorner. "Umpire said he missed the tag and you have to battle through things like that. All the sudden a three-run game was a six-run game. That's baseball."
Although St. Henry was disappointed the season came to an end in its 24th regional appearance, it was a strong postseason showing from the Redskins, who finished seventh in the Midwest Athletic Conference.
"The seniors all worked hard this year for us and we had a strong tournament run," said Dorner. "We had confidence in ourselves all season long, but we just weren't getting that one big hit during the early part of the season. We started to believe in ourselves and we were able to make a nice run. Wish we could keep playing but Tinora played a heckuva game today."