Thursday, June 23rd, 2011
Work begins on renewable energy center
Officials break ground for solar plant
By William Kincaid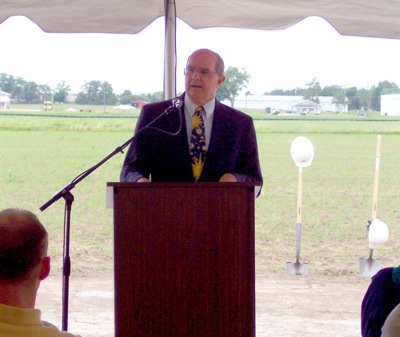 CELINA - For a city of 10,000 people, Celina is thinking "mighty big" with its decision to create the Celina Renewable Energy Center, an installation that is likely the only one of its kind in the U.S., if not the world.
That's what Greg Kuss, company founder and CEO of Solar Vision LLC of Westerville, said as his company broke ground this morning on phase one of a 5-megawatt solar energy plant to be constructed on 30 acres at the new energy center off Meyer Road.
"This is a big day, this is a historic day," Kuss said during the ceremony attended by several media outlets and politicians. "This doesn't happen everyday."
Kuss said solar technology is the most benign method of producing electricity.
The project includes two phases - a 3-megawatt plant with construction beginning soon and a 2-megawatt plant, likely to begin later this summer once financing is finalized, company vice president Mike Dickman said.
The plants will produce enough electricity to power nearly 700 homes for an entire year, company officials say. It will be the sixth and largest solar power installation in Ohio for Solar Vision.
"The business model makes sense with communities that have their own power companies. Celina is one of those," Dickman said of choosing Celina. "We found reception to the idea - it's kind of a forward-thinking idea."
A 3-megawatt plant also will be built in Wapakoneta on city ground with construction scheduled for fall.
Dickman said the first solar plant should be constructed in five months and both plants should be finished and producing power for the city by the end of the year.
The first solar plant will contain 12,000 panels, while the second plant will have about 8,000. The panels will be attached to racks - 22 panels on each of 910 racks.
The dark-colored panels and racks will face south toward Beaver Creek and will be fenced in 100 feet from the road. Dickman said reflection will be minimal as the whole panel concept is to absorb as much energy as possible.
Sunlight will be transformed to DC power within each panel before being changed to AC power by an inverter located on the center aisles of the field. After going through a series of three transformers, a substation will boost the power to 69,000 volts before sending it to the city's power lines.
Dickman said on average, solar electricity will be produced 3.3 hours per day throughout the year. In the summer - when the city needs additional peak power because of pervasive air conditioning - the plants will generate electricity about seven hours a day.
Solar Vision is financing the development and construction of the plants and will own and operate them. The city owns the land and has committed to buy the power.
The deal with the city has Solar Vision paying $1.3 million to lease 30 acres of city land for 20 years. That payment funded the city's $720,000 purchase of 60 acres on Meyer Road for the renewable energy center, which will include a manure/algae digester, sludge ponds and dredge ponds on the other 30 acres.
VTF Excavation of Celina was contracted to do site prep work for the solar plants, including installing a storm sewer. Vaughn Industries of Carey will install the solar field infrastructure and a new substation.
For the city's electrical system to handle the additional power, a 10 megawatt, 69 kV substation and related lines and poles need to be constructed at an estimated cost of $1.5 million.
Solar Vision has agreed to design, construct and pay for those upgrades in exchange for the city agreeing to make any other renewable energy provider responsible for connecting to the system and paying its share of the cost. That will include Optional Energy Partners of Michigan, which plans to build the manure/algae digester. Chief financial officer Scott Simpson estimates construction of the digester may begin in November and be completed in the first quarter of 2012.
For the first five years of solar power, the average electricity customer would pay about $1 more a month, Celina Planning and Community Development Director Kent Bryan said.
Over 10 years, the average price of electricity purchased on peak demand would be $68.75 a megawatt for solar power and $68.45 for a megawatt obtained from the market, according to estimates from American Municipal Power (AMP).
The plants will be directly connected to the city's power lines; therefore, residents will not pay transmission or capacity charges like they do when purchasing electricity from the market.
Power production will be monitored remotely by Solar Vision. If a problem arises and can't be dealt with remotely, the company will send someone to the field, likely an employee of Vaughn Industries, Dickman said.
"It's a lot of electrical wiring," he said, adding the magic happens within the solar panel.
Solar power is financially viable for the company due in part to federal tax credits and Solar Renewable Energy Credits (SREC), said Kuss
Senate Bill 221 requires that all Ohio investor-owned utilities and electric service companies have 12.5 percent renewable energy in their portfolios by 2025. A half percent of that must be solar power and half of the total amount must be produced in Ohio.
If companies don't install their own solar systems, they can purchase SRECs from other sources to comply with renewable energy requirements.
Dickman said companies affected by Senate Bill 221 must add a certain amount of renewable energy each year - as structured by the Public Utilities Commission of Ohio - leading up to the full 12.5 percent mandate by 2025.
SRECs - each equivalent to 1 megawatt hour - can be sold for up to $400 on the open SREC market in 2011. Solar Vision plans to sell all SRECs attributed to the electricity production in Celina. Dickman said both plants are expected to produce 5,900 megawatt hours a year.
Bryan called the deal with Solar Vision an economical and environmental win for the city. The company's lease payment allowed the city to purchase the land, not only for the solar plants but also for a digester that will use algae from Grand Lake to create power. The lake has been plagued with algae problems for years.
"With the help of Solar Vision and tax credits, which offer the up-front money needed for this scale of project, it allows the city of Celina to realize our goal of cleaning up Grand Lake," Bryan said. "It also is infusing $1.3 million into the local economy, not to mention the economic impact of construction, crew housing and living expenses and jobs creation."