Thursday, June 23rd, 2011
Cavaliers break out bats in victory
By Gary R. Rasberry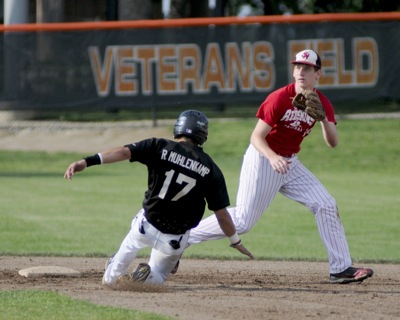 COLDWATER - After a tough loss to St. Marys on Tuesday, Coldwater rebounded in a big win in Mercer County ACME circuit action on Wednesday, plating nine runs in the bottom of the fourth en route to run-ruling St. Henry 17-5 at Veterans Field.
The win moves the Cavaliers to 12-3 on the season and 6-1 in the double-round robin County circuit standings. St. Henry (6-8) goes to 4-1 in county play with the Mercer County tournament starting July 1 back at Veterans Field.
The game had the feel at the beginning of a slugfest between the teams. St. Henry plated two in the first on a Devon Froning RBI triple that scored Derek Rindler, with Froning scoring later when Trey Rutschilling reached on an error. Coldwater responded quickly with three in the bottom of the first, with Jordan Klosterman doubling in a run and Alex Stammen scoring one on a single.
The Cavaliers took control in the second inning, sending 10 men to the plate and scoring five off Nathan Clune. Matt Kramer and Matt Selhorst each had a RBI double while Randal Muhlenkamp and Stammen added RBI singles.
The Redskins were able to cut it to 8-5 thanks to a two-run single by Chase Kessen in the top of the fourth, but things went squarely for Coldwater in the bottom of the inning as 14 batters went to the plate in a nine-run inning. Three Redskin errors - out of eight on the day - didn't help matters as Drew Klosterman had a two-run triple and Mitch Schoenherr, Jordan Klosterman, Christian Schramm and Selhorst added RBI singles.
All nine batters for Coldwater had at least one hit on the game, with six having multi-hit games. All but one spot in the batting order tallied at least one run scored.
"It was good that positives things happened early after a tough loss to St. Marys last night," said Cavaliers skipper Tom Brunswick. "Tonight was a good bounce back game. We swung the bats (17 hits), had a couple big innings.
"St. Henry did a good job getting back into the game. Our offense responded."
That was more than enough for Eric Schmackers to get another win on the season. Schmackers allowed seven hits and two walks, but relied on his defense to get him out of jams.
"Actually, it's been awhile since he's worked," said Brunswick of Schmackers. "He needed some work tonight. With the big lead, he was pitching behind more than I would like and he would like. He did come back and battled through it."
Stammen and Jordan Klosterman each went 3-for-4 with three runs and two RBI. Two-hit games came from Randal Muhlenkamp, Selhorst, Schramm and Kramer.
Devon Froning went 3-for-3 with two RBI. Kessen went 2-for-3 with a pair of RBI.
Coldwater concludes its regular season series with St. Henry tonight as the Cavaliers travel to the Wally Post Athletic Complex to face the Redskins.