Saturday, August 27th, 2011
Bulldogs beaten on last-second field goal
By Ryan Hines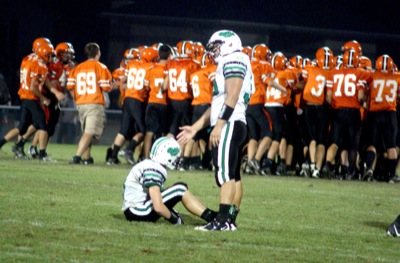 VERSAILLES - The opening week of the high school football season ended in heartbreak for the Celina Bulldogs.
With the score tied at 28-28 and only 30 seconds left on the clock, Versailles completed three passes to give kicker Chad Winner a crack at a game-winning 39-yard field goal.
Winner's kick split the uprights with no time left on the clock sending Versailles to a 31-28 victory over Celina.
"The way the game was going, it seemed like whoever had the ball last was going to win and that's exactly what happened," said Celina's head coach Jared Rolfes. "Really tough to lose this game when we did so many things well. Just feel bad for our kids, we battled til the end but came up a little short."
With just 30 ticks left on the clock, Versailles' sophomore quarterback Nick Campbell hit wide receiver Damien Winner for three yards before the two connected again for a 23-yard gainer that put the ball on Celina's 26-yard line with 10 seconds left in the game. Nick Campbell then hit Mitchell Campbell for another four yards leaving the ball at the 22-yard line with only five seconds to play.
Winner lined up the kick from the left hash on the field and calmly drilled the game-winner, which would have been good from another 10 to 15 yards further out.
"That kid has battled through some adversity with injuries and stuff like that, so I feel really good for him that he was able to make that kick," said Versailles' head coach Bob Olwin. "Pretty nice drive by a sophomore quarterback to get us in position and our kicker just killed that kick."
Nick Campbell was solid in his first varsity start for the Tigers as he completed 11-of-22 passes for 146 yards and three touchdowns with two interceptions. All three of the TD tosses were to Mitchell Campbell, who caught four passes for 61 yards.
Celina trailed 20-7 at halftime, but junior Zach Hembree helped rally the Bulldogs. Hembree made the score 20-14 after a 66-yard touchdown reception from Braden Billger with 8:25 in the third quarter. Hembree caught a bubble-screen pass and then turned on the jets to outrace the Versailles' defense to paydirt.
With just 13 seconds left in the third quarter, Hembree capped a five-play Celina drive with a three-yard touchdown run that put the Bulldogs on top 21-20.
Versailles quickly regained the lead at 28-21 with 11:07 left in the fourth quarter when a blown coverage by Celina's secondary allowed Mitchell Campbell to roam free for a 24-yard touchdown reception.
"We had a miscommunication there and their receiver was wide open in the end zone. One of our defensive backs didn't hear the defensive call and we got burnt," said Rolfes. "That play, along with a few other mistakes that we made on offense with three turnovers, was the difference in the game tonight."
Celina answered Versailles' go-ahead score when the Bulldogs went 78 yards in 17 plays with Craig Welker hauling in a six-yard touchdown pass from Billger with 4:12 remaining in the game. Braelen Bader's fourth PAT kick of the night tied the game at 28-28.
While Celina fans may be disappointed in the final outcome, there were plenty of positive moments for the young Bulldogs' squad that featured five sophomores on defense for long stretches of the game.
• Senior newcomer Derek Waterman played his first varsity football game for the Bulldogs and led the team in receptions with eight grabs for 90 yards.
• Hembree recovered from a fumble on his third carry of the season and finished the game with 25 totes for 87 yards rushing to go along with a game-high 117 yards receiving on four catches.
• Celina's sophomore Jack Hinders came off the bench and made two highlight-reel interceptions. The first came when he tipped a pass and then made a diving catch to complete the pick. Hinders later leaped in the air and made a one-handed grab on a deep pass in the middle of the field for his second interception.
• Sophomore Adam Green put consistent pressure on Versailles' quarterback and also recovered two fumbles.
• With a whole new stable of receivers, Billger still managed to complete 25-of-43 passes for 298 yards and three TDs.
There's no time for Celina to sulk after the season-opening loss as the Bulldogs begin Western Buckeye League action on Friday with a home game against Ottawa-Glandorf.