Saturday, August 27th, 2011
Mauk's Wildcats one TD better than Cavs
By Gary R. Rasberry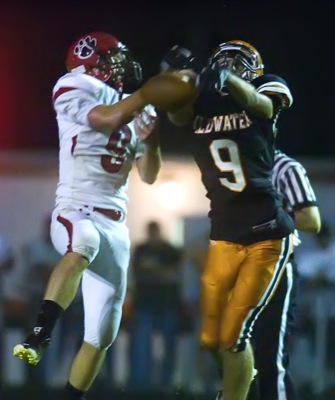 COLDWATER - While the anticipated offensive shootout did not reach the level expected, the annual Kenton-Coldwater season-opening matchup was exciting nonetheless.
Maty Mauk punched in a touchdown run from two yards out with three minutes to go in the game to give Kenton a 24-17 win over Coldwater at Cavalier Stadium.
After last year's 50-31 marathon contest at Robinson Field in Hardin County when Mauk and Austin Bruns combined for over 650 yards passing and 10 touchdowns, the 2011 edition seemed a bit conservative.
Mauk, who has committed to the University of Missouri, and Bruns did throw the ball around, combining for 459 yards passing as both teams' defenses were stout.
"They have a great coaching staff. Coach Hoyng (Coldwater defensive coordinator Tim Hoyng) does a tremendous job with their defense. He's defended us for years as well as anybody we've played against," said Kenton's coach Mike Mauk. "We knew it was going to be tough. We knew we had to make plays."
"You give Kenton 24 points, that's not bad," said Coldwater's coach Chip Otten, referring to Kenton averaging just over 51 points per game last season. "You hopefully can score more than them."
The Wildcats had a 16-10 halftime lead, but Coldwater looked to have the momentum to start the third quarter after Troy Otten kicked a school-record 48-yard field goal to end the first half.
Coldwater had the ball to start the second half and put together a 14-play drive that took nearly 4 1/2 minutes off the clock, but Bruns' pass to Caleb Siefring on a fourth-and-eight from Kenton's 24-yard line went incomplete.
Both teams' offenses seemed to slow in the third quarter, when not a single point was scored on either side.
The Cavaliers took the ball with 1:18 left in the third and moved the ball well as Bruns worked short passes and converted three first downs. The final conversion went for six points as Bruns went looking for Otten for a pass. The ball slipped through Otten's hands, but Alex Stammen was right behind him and ran it in for a 30-yard score with 8:19 left in the game to make it 17-16.
Kenton, normally known for quick-burst scoring drives, was methodical on its ensuing possession. The Cavaliers had a chance to make it tough after Kenton was called for a holding call, but an unsportsmanlike conduct penalty on Coldwater turned a first-and-long into and first-and-reasonable. Mauk later converted on a fourth-and-one with an alley-oop pass to Brice Fackler that went for 33 yards to the Cavaliers' 17-yard line. From there, Mauk kept the ball on the ground, running for the final 17 yards with the touchdown on a two-yard plunge coming with 3:07 left in the game. Mauk converted the two-point conversion for a 24-17 advantage.
"We could have had them second-and-30, but we get a bad penalty (the unsportsmanlike call)," said coach Otten. "(Mauk's) tough to control. They do so much, so well with their formations to put you in a mismatch where he can throw it or run it."
Forced to work the ball through the air with no timeouts left, Bruns could not find the open player. Bruns threw incomplete passes on first and second downs before getting sacked on third down. The fourth-and-14 pass resulted in Fackler getting the pick.
Mauk then took a knee to end the game.
Mauk was 25-of-32 passing for 215 yards and carried the ball 34 times for 141 yards. Justin Sawmiller snagged 11 passes for 87 yards.
Bruns was 21-of-39 for 254 yards and two touchdowns with two interceptions. Caleb Siefring had five catches for 67 yards with Aaron Mestemaker recording three catches for 59 yards.
"(Bruns) is an outstanding player," said coach Mauk. "He made a lot of key plays throughout the course of the game. We were able to put enough pressure on him and change our coverages that I thought gave them a little bit of confusion later in the game. He makes some great throws and (Coldwater) had a great game plan. Fortunate for us, we were able to make one more play."
Coldwater wraps up non-league play next week by traveling to Defiance County to face the Hicksville Aces in the first meeting between the schools since 1949. Kenton opens Western Buckeye League play at home on Friday against St. Marys (1-0).