Saturday, January 7th, 2012
Gas prices going up
Experts predicting $4 a gallon by Memorial Day
By Amy Kronenberger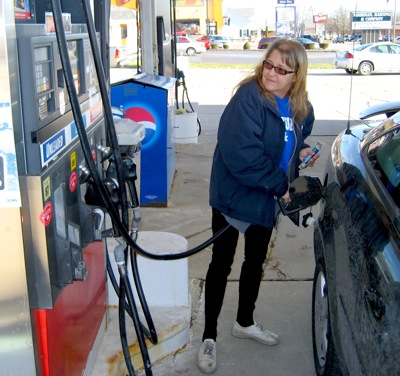 Gas prices are greater than they were one year ago and forecasters expect the trend to continue.
Retail gas prices in Ohio rose 7.8 cents in the last week, averaging $3.37 per gallon, and analysts predict $4 a gallon fuel by Memorial Day.
Prices in the Celina area were $3.45 to $3.50 Friday, which puts prices about 28 cents higher than they were one year ago and about 15 cents higher than a month ago, according to OhioGasPrices.com.
St. Marys resident Connie Fowlar said she's already cutting back on her driving to save money.
"I run all my errands when I'm on my way to or from work to save gas," she said while pumping fuel Thursday at the Clark gas station in Celina. "I have a 45-minute commute to work, so I have to cut where I can."
The trend since 2008 has been increasing gas prices after the start of the year which peak in the summer months, said senior petroleum analyst Patrick DeHaan from GasBuddy.com.
"The biggest problem with that trend holding true this year is that we're starting 2012 about 20 cents per gallon higher than 2011, breaking yet another high price record and setting up an ugly year for motorists," he said.
The average gas price in the nation last year was $3.513, 72 cents per gallon higher than 2010's yearly average, according to GasBuddy.com. DeHaan projects that by Memorial Day, the national average will be $3.86 to $4.13 per gallon, and prices throughout the year will come close to or set all-time highs.
GasBuddy.com analysts also say some areas of the country may see prices near $5 per gallon if conflict arises in Iran.
The national average of gasoline on Friday was $3.35 per gallon.
Geneva, Ind., resident Harry Martin called it frustrating to watch the numbers rise.
"It comes to the point that if I run out of money in my wallet, I'll stop buying it," he said while filling up in Celina on Thursday. "I think it's ridiculous; it jumped 20 cents just today."
The price of oil per barrel on Friday was about $102. However, the Organization of the Petroleum Exporting Counties has a large spare capacity of reserve and controls the amount of oil produced, Wright State University-Lake Campus economics professor Joe Cavanaugh has said.
"They recognize that having gas at or above $100 a barrel will hurt the overall economy and decrease demand," he said for an earlier story. "They know that it's in their best interest to use that reserve to increase supply, bringing down prices."