Saturday, February 4th, 2012
Redskins upset state-ranked Indians
Post hits game-winning free throws with 4.2 seconds left in the game
By Gary R. Rasberry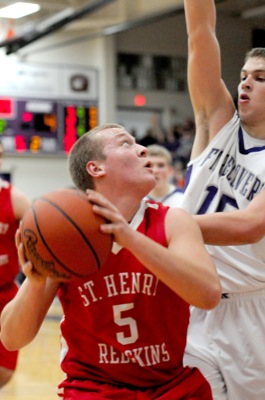 FORT RECOVERY - The gathering of the tribes at Fort Site Fieldhouse on Friday night was a good-old fashioned rivalry game with plenty of twists and turns.
Fort Recovery overcame a sluggish start to get back into the game with St. Henry and the Indians led with 25 seconds left, but the Redskins' Alex Post hit a pair of free throws with 4.2 seconds left in the game to give the Red and White a 42-41 win.
The Redskins are now 11-4 overall and 3-3 in the Midwest Athletic Conference after knocking off the state-ranked Indians (13-2, 5-1 MAC), who are now tied on top of the conference standings with Delphos St. John's. Fort Recovery was ranked second in the most recent state poll.
"It's a rivalry game. It's a MAC game. It was a classic," said St. Henry's coach Eric Rosenbeck.
Defense took center stage in this battle with both teams scoring 15 points under their season averages. It was a physical contest as the teams combined for 39 personal fouls.
St. Henry held a 7-4 lead after the first quarter before the Redskins' Steve Luttmer caught fire and hit a trio of three-pointers as the visitors built their lead to 22-11 by halftime. Fort Recovery went scoreless for a span of over nine minutes in the first half and shot just 4-of-19 from the field.
"The thing is, you can't come out and score four points in the first quarter and almost have four points the whole first half and expect to win games," said Fort Recovery's coach Brian Patch. "You can't be down 22-11 to a good team and expect to win as well."
"We tried to mix it up to keep them as off-balanced as much as we possibly could," said Rosenbeck. "We thought in the first half we had them rattled a little bit. Second half, they made some nice adjustments."
Fort Recovery began to pick up the pace in the third quarter as St. Henry went scoreless for five minutes. Post halted the Redskins' scoreless spell with a hoop-and-harm three-pointer, but Fort Recovery trimmed its deficit to six points at 28-22 going into the fourth quarter.
St. Henry appeared to have put the game on ice as it pushed its lead to 37-27 with 3:50 to play in the game. However, Fort Recovery's Wade Gelhaus and Jared Kahlig combined to score seven points and pulled the Indians to within three points at 38-35 with 1:40 to play in the game.
After St. Henry's Craig Knapke made it a two-possession game with a free throw, the Indians went to a new source for a big shot. Sophomore Kent Retz, who missed his first six shots of the night, nailed a three-pointer from the top of the key to make it a one-point game with 61 seconds left.
St. Henry worked the ball down to Luttmer, whose layup try was blocked and rebounded by Gelhaus.
Gelhaus then missed a shot on Fort Recovery's ensuing possession and St. Henry's Kyle Stahl corralled the rebound and was fouled with 40.4 seconds on the clock. Stahl made one-of-two at the charity stripe to make it 40-38, but Retz struck again by nailing a trey with 25 seconds left in the game to give the Indians their first lead since 2-0.
"He's a shooter and has a lot of confidence in those shots and his abilities," said Patch of Retz's big shots. "We told him we had confidence in him and that's why we put him out there. He's able to do that and was able to hit big shots for us."
"You have to give those kids credit," said Rosenbeck of Fort Recovery's comeback. "Those two threes were phenomenal."
With 8.5 seconds left in the game, St. Henry got the ball to Luttmer, who missed hit shot attempt. Alex Kaiser rebounded the ball for Fort Recovery but was stripped by Post, who drew the foul on Kaiser. While the Fort Recovery fans were shocked and fuming, Post sank both free throws with 4.2 seconds left in the game to make it 42-41 in favor of the Redskins.
Gelhaus' three-point try from 22 feet hit the rim but was off the mark as the horn sounded.
"Taz ripped that ball away and showed some great character at the foul line," said Rosenbeck, referring to Post by his nickname. "We talk about balance all the time. Not too high, not too low. ... I think we learned some lessons from losses like Kalida, Marion Local and New Bremen (games where St. Henry led, only to lose late) that helped us tonight."
"We go up with eight seconds left. We even get the rebound on a missed shot, and somehow they walk away shooting free throws instead of us," said Patch. "We did everything we had to do to win the game."
Luttmer was the only Redskin in double figures with 13 points. Post added eight points while Stahl had eight points and 10 rebounds.
Gelhaus scored a game-high 14 and pulled down 16 rebounds.
St. Henry travels to Eaton tonight while Fort Recovery is off until next Friday when it travels to Maria Stein to face Marion Local.